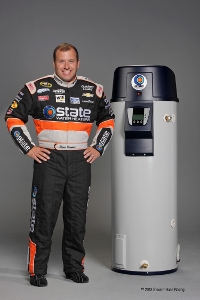 NASCAR driver Ryan Newman. Photo credit: State Water Heaters
State Water Heaters recently partnered with title-winning NASCAR Sprint Cup Series team Stewart-Haas Racing. State will serve as the primary sponsor for Ryan Newman (pictured) during the Goody's Foot Relief 500 Sprint Cup race in October at Martinsville (Va.) Speedway.
 For the other races, State Water Heaters will be an associate sponsor of the No. 14 Bass Pro Shops/Mobil 1 Chevrolet SS driven by SHR co-owner and three-time Sprint Cup champion Tony Stewart and the No. 39 Quicken Loans Chevrolet driven by teammate Newman.