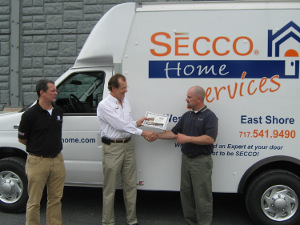 Product Manager David Lamb (left) of distributor Peirce-Phelps and Vice President of Sales Bob Bartholomew(right) of ROI Marketing present Barry Kindt (center), owner of SECCO Home Services, with State Water Heaters' "Bristol Night at the Races" grand prize — a multiday race package for two in August at the Bristol Motor Speedway
Philadelphia HVAC & plumbing distributor Peirce-Phelps named Camp Hill, Pa.-based SECCO Inc. the winner of its "Bristol Night at the Races" contest.
"SECCO is a long-standing customer of Peirce-Phelps and a leading contractor in the greater Harrisburg area," said David Lamb, product manager for Peirce-Phelps. "We're thrilled that our partnership with State Water Heaters allows us to reward our most loyal customers with a prize like this."
Two SECCO Home Services team members will be treated to a multiday race package in August at the Bristol Motor Speedway, including tickets to the NASCAR Sprint Cup and Nationwide Races, a visit to the pit area, and a ride around the speedway via the Richard Petty Driving Experience.
"This opportunity really shows how much State Water Heaters and Peirce-Phelps value their customers," said Barry Kindt, owner of SECCO Home Services. "It was great to find out that we'll be rewarded with a once-in-a-lifetime experience just for doing our jobs."