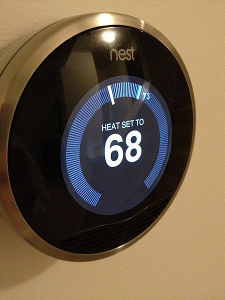 That is the question posed by smartplanet blogger Mary Catherine O'Connor. While Americans have burned less Btu to heat and cool their homes, the amount of energy used for appliances, electronics and lighting has grown.
While Web-enabled smart thermostats such as the Nest and models from Ecobee and EcoFactor have garnered attention, most homeowners don't even use the programmable thermostats the new models are to replace, she notes. Or they may have them installed but don't use the programmable features.
For tech-hungry homeowners, smart thermostats are appealing. But what about the rest of us?
How crazy for technology are we? In a article from the Yorkshire Post, it seems Internet broadband access wins over home heating in London. About 40% of London commuters said their stress levels would be higher if they were unable to surf the web than if basic utilities were cut off or their televisions stopped working. Read the entire article here.
In the 21st century, it seems our lives are dominated by technology. But that's not always a good thing. Home energy management and building performance can be derailed by one thing: human behaviour. That's why it's important to let your customers know that the expensive, high-efficiency heating and/or cooling system you installed may not conserve the energy they expect if they don't change their energy-use behaviours.
 And consider adding home energy assessments to the repertoire of your service techs.