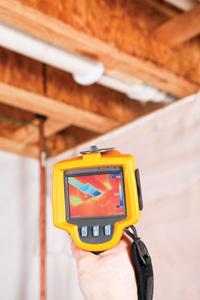 An infrared camera can be used to produce a thermal image of a house to determine energy leakage from the roof or walls. It also can be used inside to find energy loss around pipe and mechanical equipment. Photo credit: ©istockphoto.com/BanksPhotos
With so much focus on energy efficiency these days, home-owners may be confused about how much energy is consumed in their homes and what appliances or equipment need to be monitored.
Most people pay more attention to the shower systems, kitchen faucets or flooring they want rather than the comfort systems in their homes.
Be a leader in your community and educate your customers. Offering home energy audits, also known as home energy assessments or home performance audits, to your customers can help them understand the energy needs and usage of their homes as well as position your company as an expert in providing energy-efficient comfort solutions.
It's not just about HVAC systems; boilers, water heaters, dishwashers, washing machines, radiant systems and renewable energy systems, such as geothermal and solar thermal systems, all contribute to a home's energy consumption.
An energy audit is the first step in identifying a home's energy problems, such as being too hot in the summer or too cold in the winter, suffering from moisture problems or air leakage, and increasing energy costs. A certified auditor can perform the correct diagnostic tests and provide homeowners with cost-effective solutions.
Two types of energy audits are available to homeowners: a home energy survey and a general energy audit. A home energy survey is a visual inspection of the home only to assess the energy performance of the home: building envelope features (windows, doors, insulation and ducts) and ages; heating, cooling and air ventilation equipment and ages; comfort complaints; visible moisture issues; and visible health and safety issues.
 A survey also includes an analysis of electric and gas billing to understand the home's energy usage, as well as occupants' energy behavior: How many people live in the home? How many rooms are in use? Is anyone at home during working hours? What is the thermostat setting for summer and winter? What is the hot-water usage?
Homeowners receive a report recommending basic measures for energy-efficiency improvement, including low-cost DIY projects and utility-based programs.
A general energy audit expands on the home energy survey by using diagnostic tools such as the blower door test to find the location of air leaks in the building envelope, duct leakage test for forced-air or mini-duct systems, a combustion analyzer to find existing or potential combustion safety issues, and an infrared camera to determine the efficiency of insulation in walls and ceilings.
Professional certification
While obtaining certification as a home energy auditor is not a requirement to conduct energy audits, it shows homeowners that your company has the knowledge and expertise to do proper testing, provide the best options to increase energy efficiency in their homes, and repair or replace their heating and cooling equipment.
These national organizations provide training, education and certification to those who want to become home energy professionals:
• RESNET: The Residential Energy Services Network created national training and certification standards for the Home Energy Rating System and home energy survey professionals that are endorsed by the Environmental Protection Agency, the Department of Energy and the U.S. mortgage industry. Requirements include training classes, an online exam and three probationary ratings before certification.
RESNET also has a network of qualified EnergySmart Contractors. They are required to attend eight hours of training, pass a 50-question exam, and sign up with a Contractor Education and Qualification Provider. EnergySmart Contractors must be licensed where required and have the proper insurance.
• BPI: The Building Performance Institute provides four levels of training and certification for professionals: Entry-Level Practitioner, Skilled Building Performance, Advanced Home Energy Professional and Multi-Family Building Professonal. BPI's nationally recognized training uses the house-as-a-system approach, which teaches students about the relationships between different components within the home. Students also learn about professional ethics and conduct.
Technical training includes classroom and hands-on participation. Contractors must pass an exam to become certified; the exam can be taken up to three times in one year.
---
HELPFUL LINKS: