Truck of the Month
Truck of the Month: Armstrong Plumbing, Sacramento, Calif.
Armstrong Plumbing has 'plumbers who can'.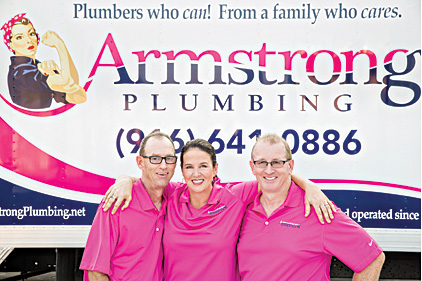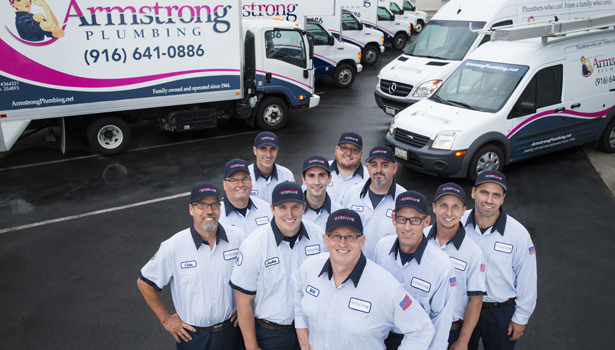 Having recently become majority owner, Marcelle Flowers, CEO and president of Sacramento, Calif.-based Armstrong Plumbing, decided the company's 50th anniversary was the perfect time for a makeover — new designs on the trucks, new uniforms for the plumbers, new pink shirts for the office staff, and new letterhead, pens, magnets and envelopes. The truck wrap, done by Jim Hare of Signs by Tomorrow, features a logo representative of the Rosie the Riveter posters during WWII.
"With the help of our marketing specialist, Heather Gallien at Mixed Marketing in Colorado, we as a team conceptualized a brand that highlights our craftsmanship and expertise, as well as the fact that we are one of the only woman-owned plumbing businesses in the Sacramento area," Flowers says.
As a twice-over breast cancer survivor, when it came to choosing colors, Flowers knew pink had to be a part of the new identity. "It goes beyond the embodiment of being woman-owned; this color speaks for all women who have overcome such great adversity," she continues. "We are proud to be representing!"
The wrap also features a similar slogan to the famous "We can do it" poster. For Flowers and her team, it was a yearlong process from start to finish.
"We began with brainstorming about the things that make us unique," Flowers explains. "Through the process we realized our 10 techs have a combined experience of more than 300 years. We often find ourselves applying a 'plumbers who can' expertise to each challenging situation and unique opportunity. We also wanted to apply a strong emphasis on family dynamic. We care about our customers, our community and each other — that's family."
All 11 trucks have been wrapped with the new design. The fleet includes: a 2013 Isuzu with marathon body, 2003-2012 Ford E350 with marathon bodies, a 2012 Mercedes Sprinter and a 2013 Ford Transit. "We have always enjoyed the Ford E350s for their durability and spacious work area," Flowers says. "However, with the addition of the Isuzu to our fleet, we now enjoy the benefits of the Ford with the fuel efficiency and durability of the diesel engine."
Having begun as a commercial-only plumbing company focusing mainly on new construction, Armstrong's focus has shifted to include service, repair and remodel for both residential and commercial plumbing. "During the crash of 2008, we suffered tremendous financial loss," Flowers explains. "The decision to reinvent ourselves was a difficult one yet the alternative would have insured complete closure. We have since grown the business from two trucks in 2008 to 11 trucks today."
She adds: "We are a little company swimming up a very large stream. We have remained as an hourly time-and-material shop, offering a distinct difference to our customers and commercial accounts. We treat our customers like family from the first day we arrive at their home, instilling a sense of trust that we hope keeps them returning for the next 50 years."
---
HELPFUL LINKS:


I want to hear from you. Tell me how we can improve.