Amidst a myriad of educational sessions, members of the Plumbing-Heating-Cooling Contractors — National Association inducted a new president, elected a new vice president and presented numerous awards to deserving members at the 2014 PHCC Connect, held Oct. 8-10 in New Orleans.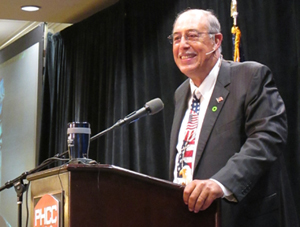 2014 PHCC Connect keynote speaker Gen. Russell Honorè relates critical leadership lessons for success to PHCC members. Photo credit: Kelly Faloon/Plumbing & Mechanical
Educational sessions covered topics such as best practices in hot water system design, creating a business plan, mobile technologies in the field, social media and search engine optimization, best practices and tools for bid estimates, the comeback of direct mail marketing, an update on the upcoming water heater regulations, new bathroom technology, and hiring and training tomorrow's workforce.
Keynote speaker Gen. Russell Honorè told of his experiences in New Orleans as he arrived to take charge of the city after the devastation of Hurricane Katrina. He told PHCC members that leadership is important in business just as it is in the military.
"Investment in leadership is critical to success," he said. "How do you get people willing to follow you?"
He listed three things leaders must do to succeed:  do the routine things well; be prepared to take on the impossible — that's where the opportunities are; and don't be afraid to act even while being criticized.
Honorè encouraged members to embrace technology and innovation to help the 2 billion people in the world who don't have clean water. "Embrace innovation in your business. The plumbing business has evolved that way."
He concluded by telling members that their best leadership skills should be saved for family.
"As leaders, one of the most important things we need to do is raise good kids," he said.
Elections, awards
Kevin Tindallof Princeton, N.J.-based Tindall & Ranson Plumbing and Heating, took over from Steve Rivers as national president.  Patrick Wallner of Wallner Plumbing, Heating & Air Conditioning in Redding, Calif., was elected 2014-2015 PHCC vice president.
Receiving the 2014 Col. George D. Scott award was Mark Giebelhaus, president of Marlin Mechanical Corp. in Phoenix. The award recognizes a PHCC member who has provided years of service and unselfish devotion to the association and industry, and whose industry efforts have provided many benefits to other PHC contractors. A former PHCC national president, Giebelhaus has been involved in the plumbing-heating-cooling industry since the early 1980s.
Jim Steinle of Atomic Plumbing was named Plumbing Contractor of the Year and Mary Jean Anderson of Anderson Plumbing, Heating and Air was named HVAC Contractor of the Year.
The Plumbing Apprenticeship Contest had 21 entrants and the HVAC Apprenticeship Contest had 10 entrants. First place in plumbing went to Tyler Arndtof Arndt & Son Plumbing in Brooklyn, Wis. First place in HVAC went to Leroy Friend of Shapiro & Duncan, Rockville, Md.
The 2015 PHCC Connect will be Sept. 30-Oct. 2 in Hollywood, Fla.
---
HELPFUL LINKS: