Have you ever wondered what happened to all the food that restaurants don't serve each day? Many produce more food because they are afraid of running out. They can't serve leftovers as many of us do at home. While some food can be donated to people in need via soup kitchens and homeless shelters, much of the food is thrown away. This is especially true of any food found on a buffet table.
A 2012 National Resources Defense Fund report, "Wasted: How America Is Losing Up To 40% of Its Food from Farm to Fork to Landfill," notes that Americans throw out about $165 million worth of food each year. For restaurants, about 4% to 10% of food is considered "kitchen loss" before it ever gets to a customer's table. Plate waste is another significant contributor to losses in food service, the reports says.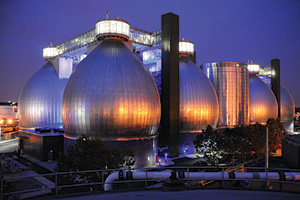 The Newtown Creek Wastewater Treatment Plant, managed by the New York City Department of Environmental Protection, has eight 'Digester Eggs' to process about 1.5 million gal. of sludge each day. Food scraps from local schools are being added to the sludge in the anaerobic digesters to produce biogas.Photo credit: New York City Department of Environmental Protection
In April 2013, former New York City Mayor Michael Bloomberg issued the "Food Waste Challenge" to local restaurants to reduce the amount of food waste being sent to landfills, which will help the city meet its PlaNYC goal of diverting 75% of solid waste from landfills by 2030. More than 100 restaurants signed up for the program.
Going further, the New York City Council in December passed legislation requiring commercial food scraps from the largest food-service establishments to be sorted from regular trash in order to be recyled at a composting facility or an anaerobic digester, effective in 2015. It is similar to laws in Connecticut and Vermont and in cities such as Austin, Texas; Portland, Ore.; San Francisco; and Seattle.
But food waste isn't just a problem at restaurants; cafeteria-style establishments such as schools also throw out a lot of food. In January, New York City announced it had started a one-year pilot program to convert thousands of pounds of food waste from local public schools into biogas, a natural byproduct of the waste treatment process. Much of this food waste was shipped to out-of-state landfills, costing the city millions of dollars each year.
Food waste gets trucked by national waste removal firm Waste Management to the Newtown Creek Wastewater Treatment Plant (Greenpoint, Brooklyn), part of the New York City Department of Environmental Protection, where it is mixed with sludge in eight stainless-steel, 140-ft. tall, egg-shaped anaerobic digesters. The oxygen-free environment is heated to 95° F for 15 to 20 days, promoting the growth of anaerobic bacteria, which consumes the organic material in the sludge.
The digestion process stabilizes the thickened sludge by converting much of the material into water, carbon dioxide and biogas. During the pilot period, which ended in May, Newtown processed between 1 1/2 to 2 tons of food waste per day, reports Biomass Magazine. This winter, the NYC DEP will increase the input of food waste, beginning at 50 tons and increasing to 250 tons over a three-year period. The DEP estimates Newtown has the capacity to process 500 tons of food waste per day.
Electricity and natural gas utility National Grid and the DEP  are developing a biogas-to-grid energy system to convert the methane-rich biogas into clean natural gas — which is mostly methane gas — to heat an estimated 5,200 homes and businesses. About 40% of the biogas produced at Newtown is used to fuel the plant's boilers for process and heating needs; the rest is burned off. Once the grid project is complete, the other 60% of biogas will be cleaned to "pipeline-quality" and introduced into the natural gas distribution system.
The Newtown Creek facility with its "Digester Eggs" is now a popular tourist attraction. Free monthly tours include an overview of the waste treatment process, a visit to the anaerobic digesters and a look at the Manhattan skyline from a glass-enclosed observation deck built on top of the digesters.
---
HELPFUL LINKS: