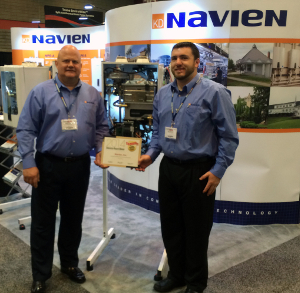 Navien's Brian Fenske and Eric Ashley with the company's award at the 2014 Comfortech in Nashville.
Water heater manufacturer Navien's NCB Combi-boiler Series was voted the No. 1 plumbing product in the 2014 Comfortech Product Showcase Awards contest. The judges said the product is the "most innovative and useful to plumbing contractors" at the trade show.

 "The NCB series is unique in that it is capable of providing a whole-home heating system while also providing the domestic hot water output of a stand-alone tankless water heater," said Eric Ashley, marketing product supervisor for Navien.
 
The NCB has dual inputs of 120,000 Btu/hr. of heating, 199,000 Btu/hr. of domestic hot water capacity and the ability to link with NPE series tankless water heaters for expanded DHW delivery.

The NCB series will be priced competitively compared to other combination boilers; contractors can now offer a complete package for whole-home heating as well as endless hot water, Navien said.