Julius Ballanco: Plumbing Primer
Columnists
Bath & Kitchen
Plumbing, HVAC and Fire Protection Codes
Designing a walk-in shower
Door, curtain or naked.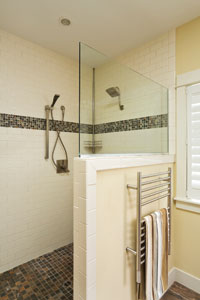 Photocredit: ©istockphoto.com/dpproductions
A little more than 25 years ago, I promised my wife an addition to our house. When we bought this house, we loved it. However, the master bedroom was nothing spectacular. So I outlined how we would build this beautiful master bedroom suite. Well, after all the kids moved out, I started the project.
Of course, with a master bedroom comes a master bathroom. The master bath is not huge, but it is a good size at 12 1/2 ft. by 9 1/2 ft. I had to fit two lavatories, a water closet, a 6-ft. whirlpool tub and my wrap-around shower in this bathroom. Notice how I claimed one item. I wanted to simply walk in to take a shower. My wonderful wife indulged me and said, "Whatever you want."
When I showed the builder my bathroom design, his first question was, "Where is the shower door going?"
I responded, "There is no shower door."
Then he said, "You don't want to put in a shower curtain with such a beautiful new addition."
I said, "You're right, no shower curtain, no shower door, we are going naked, just walk in and turn on the water."
He started to ask about the water splashing out of the shower. That is when I said it was all in the design. Of course, I had to work with my general contractor because he does all the tile work and is a master at it.
So the shower became one of those engineered concepts. I use the term "engineered" loosely. The real important aspect in the design was determining the splash factor and keeping it within the shower enclosure. Everything had to work together: the location of the shower valve, the location of the showerhead, the type of showerhead and the extension of the tiled area.
I will admit to going overboard detailing the design. It was my own house and I wanted it to work spectacularly. I also did what some might consider strange things. First, the shower area has an 8-ft. ceiling, which opened to an area with an 11-ft. ceiling. The shower valve is on the same wall as the entry into the shower. You walk in, turn to the right and there is the shower valve.
The showerhead is a rainfall-style showerhead that only flows 2 1/2 gal. per min. I am a big believer in water conservation. Finally, the shower has a bench and an overhead light.
At first, I planned on a zero-threshold shower. However, when I decided to use trusses for the floor assembly, the zero threshold disappeared. With trusses spaced 12 in. on center, you cannot configure the floor to pitch without a threshold. So, I compromised.
I showed some of my colleagues the design of the shower area before I built it. They all said it wouldn't work. That made me more determined to prove them wrong. The two main comments were: "Without a shower door, you'll have a draft and be cold when taking a shower," and "With such a high ceiling, you won't contain the steam in the shower area and you'll be cold taking a shower." Notice how the common theme is cold in the shower.
What they didn't realize is that, as a part of the design, I strategically placed two exhaust fans in the bathroom. Yes, two fans are installed but that is a topic for another column. I knew there wouldn't be a draft.
As for the splash, I calculated the water to travel 4 ft. to the open side. The other three sides are enclosed by tile, so I didn't care where the water went.
After a discussion with my wife, I added one more feature, a second hand-held or telephone shower. The second showerhead makes it easier to wash her hair or shave her legs. My only concern was that since that showerhead had a different spray pattern, it meant the splash factor went further.
No breeze
We moved into the addition on Mother's Day last year. Now my experimental shower could be tested. Everything imagined by my colleagues did not occur. I did not get cold in the shower. Any steam was captured by the exhaust fans.
As for my calculations on the splash factor, I was wrong. When I shower, the furthest splash to the open side is 3 ft. I thought it might go as far as 4 ft. As it turns out, my wife likes the showerhead on the hand-held shower better than the rainfall showerhead. So she uses that one. The splash factor is further, but only by 6 in. So rather than the calculated 4 ft., it goes 3 1/2 ft.
The real test came during the first winter. The Chicago area has many cold mornings, the coldest this year being -18° F. Taking a shower that morning was delightful. No, we didn't get cold; no, we didn't feel a breeze. The splash factor was still 3 ft.
Everyone who sees the addition asks the same questions about the shower. After hearing the answers from my wife (no one believed me), our guests said they wanted a shower like mine in their own homes.
My builder called me and asked if he could stop by. When he arrived, he asked me to teach him how to design a shower without a curtain or a shower door. We spent a few minutes going over it. As I pointed out to him, you need to keep the opening at least 30 in. from the shower valve, assuming they are on the same wall. When the shower valve is on the opposite wall, you need the opening to be at least 4 ft. away.
High-pressure showerhead sprays will splash further than low-pressure ones. A rainfall-style showerhead uses the lowest of pressure.
Finally, the placement of the exhaust fan is very important. You don't want a breeze running by you when you are taking a shower.
Walk-in or wrap-around showers are a growing trend. From personal experience, I love them. I have nothing against shower doors or curtains but when you can just walk in and walk out, that is great.
You need to work with a builder if you are going to install a walk-in shower. He has to get the tile and the walls installed correctly to make sure everything works.
Yes, you need a little extra area for the shower but not as much as you would think. Consider offering the concept to your customers, especially if they are planning a major redesign of their master bathroom. They'll love it.
---
HELPFUL LINKS:


I want to hear from you. Tell me how we can improve.