American Standard Water Heater Co. announced that its HE Series – High Efficiency Commercial line of water heaters have officially been Energy Star certified.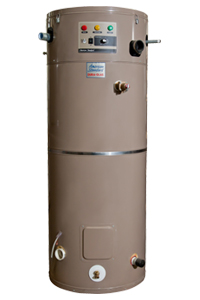 American Standard Water Heater Co.'s HE series has Energy Star certification.
The new HE Series of water heaters is equipped with a longer lifetime heat exchanger, heating coil, over its similar conventional counterparts. A five-year warranty upgrade is also available. 
"The new design with its heat exchanger coil does not require legs, which dramatically reduces clearance space as the HE Series can be installed directly on the floor with zero clearance required," said Jim Hilton, vice president of Sales & Marketing for American Standard Water Heater Co.
"We're extremely excited about the Energy Star certification and to simultaneously empower distributors and businesses with the added incentives they'll receive from utility companies that offer rebates from the sale & purchase of our High Efficient Commercial water heaters, with some states providing rebates as high as $5.00 per 1,000 BTU's," said Hilton. 
The entire Commercial and Residential line of American Standard Water Heaters can be seen online at www.waterheating.com, and further information including sizing, savings calculations, utility rebate information and competitive cross referencing may be obtained, without cost, by dialing 800-900-9063.
---
HELPFUL LINKS: