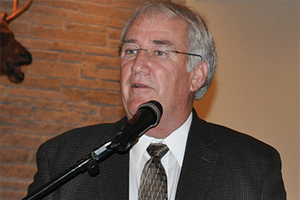 UA General President Bill Hite speaks to members of the Plumbing Contractors Association of Chicago and Cook County. Photo credit: Plumbing Contractors Association of Chicagoland
 With the average age of the 290,000 UA members in the United States being 46 years old, United Association General President Bill Hite urged union plumbing contractors to "go young."
Hite spoke to members of the Plumbing Contractors Association of Chicago and Cook County during its monthly membership meeting Nov. 12 in Chicago.
"I want everyone in the room to bring young people into the industry," he said. "We need more young people in the plumbers union in this country. My big message to you today is bring in more apprentices. How many apprentices can you start?"
Hite encouraged PCA members to enter new markets such as prefabrication and residential plumbing service.
"Everything is modular today," he said "Open a fab shop, hire people and start fabricating. We have to a make you more competitive. That's our job as a union."
Hite referred to the UA's $250 million annual training budget. He cited the success of the UA's new Plumbers 911 residential service programs in Miami, Atlanta and Washington. The program requires a heavy investment in training and marketing, but service work will help fill the contractors' workload when industrial and commercial projects fall off.
"We have to build this market," Hite said. "We've got to work together or we're going to fail. Contractors and labor have to work together for the betterment of the industry."
---
HELPFUL LINKS: