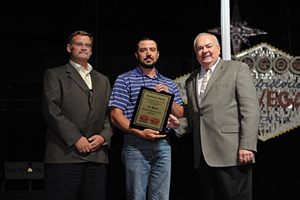 Plumbing Apprentice Contest judge Jim Steinle (left) and PHCC Educational Foundation Chair Roger Peugeot (right) present Curtis Bruington with a trophy for first place in the PHCC Plumbing Apprentice Contest.
Photo credit: PHCC-National Association
Organizers of the 2013 edition of PHCC Connect said more than 700 attendees took advantage of the Oct. 16-19 event in Las Vegas to attend seminars and trade-show activities during which more than 60 exhibitors showed off their newest and most advanced products.
Trade-show festivities aside, there also was a healthy program of activities, from educational seminars and business sessions featuring speakers such as Forbes magazine publisher Rich Karlgaard to apprentice contests and awards.
In plumbing apprentice contest action, the first-place winner was Curtis Bruington from Central Texas Plumbing Solutions in Waco, Texas. Second place went to Cameron Lange of Lange Plumbing in Las Vegas, and third place went to Jason Robertson from Mike Tilton Plumbing in Shreveport, La.
On the HVAC side, apprentice Tyler Pluger from La Mirada Plumbing & Heating in Norwalk, Calif., took first place, followed by Mike Deeben from M.E. Flow in Leesburg, Va., and Robert Monroe from Shaprio & Duncan in Rockville, Md.
Other PHCC Connect highlights
Other show highlights included the general session, which featured a roundtable discussion on the subject of water conservation. One of the featured speakers was Rob Zimmerman, the senior channel manager for sustainability at Kohler Co., who pointed out U.S. residents use 70 gal. of water per day per person, excluding irrigation.
Chip Greeneof Macon, Ga.-based Greene & Associates was elected 2013-2014 vice president during the Oct. 18 annual business meeting. At the closing reception, Steve Rivers of Pleasanton, Calif.-based Rivers Plumbing, Heating & Air was installed as 2013-2014 president, succeeding 2012-2013 President David Dugger.
The next PHCC Connect event is scheduled for New Orleans Oct. 8-10, 2014.                                                                      
Author bio: Jack Sweet is the editor of Reeves Journal. You can contact him at 949/716-2053 or jack@reevesjournal.com.
---
HELPFUL LINKS: