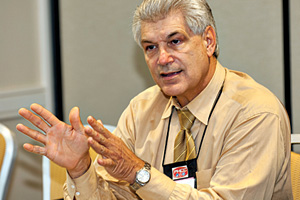 Incoming PHCC National President Steve Rivers. Photo credit: PHCC
Last month, Plumbing & Mechanical interviewed Steve Rivers, owner of Rivers Plumbing, Heating & Air in Pleasanton, Calif., and incoming president of the Plumbing-Heating-Cooling Contractors – National Association. Rivers has been a PHCC member for nearly 30 years. At the national level, he is a former zone director of the PHCC board and chair of the PHCC Bylaws Committee. He is a former president of the PHCC of California, as well as the Alameda and Contra Costa Counties PHCC.
PM:What is the top item on PHCC's national legislative agenda?
SR:PHCC always has been involved in the legislative process, so it's difficult to pick just one or two items. Priority issues that PHCC is following include the death tax, tax credits for energy-efficient equipment, small business regulatory relief, lead paint regulation compliance and health-care reform. Mark Riso, PHCC's government affairs director, does a great job of staying on top of the issues, meeting all the right people in Washington and working to develop those relationships.]
Every year, we have our PHCC Legislative Day on Capitol Hill. It's going to be another great event in 2014. I'm really excited to be exposed to the behind-the-scene situations I will see next year as PHCC national president.
PM:A year from now, what will you say your No. 1 accomplishment was as PHCC president?
SR:I'm the owner of a small company. I hope to get more of the smaller contractors who are not members of PHCC more involved. They make up the majority of plumbing and HVAC contractors. PHCC offers plenty of educational programs and networking events to help smaller contractors on the state and local level, as well as at the national level.
From a national perspective, I want to make sure we reach out to all contractors, regardless of the size of their company.
PM:Where do you see the greatest business opportunities for PHCC members in 2014?
SR:I'm in the camp who believes the economy is ready to take off again, and we've been through the worst of it. This is just a good time to be a plumbing contractor because people need our services. Commercial work is coming back, as is new construction, and there always will be a need for service and repair.
If you can offer a good professional service as a plumbing contractor, you can do really well and make a good life for yourself. You can rise to the top with some business sense and doing what you do well. [Save for online version: That's been true of my company and my peers in PHCC with their companies. PHCC has played a big part in that.]
PM:How does PHCC help contractors take advantage of these opportunities?
SR:We always are presenting business management and technical webinars and seminars. The PHCC Educational Foundation has seminars on all aspects of business to help contractors fill in the pieces they need to build their businesses. The state and local associations do the same thing on the state and local level. It's easy to stay on top of what's new on the product side with the help of manufacturers we bring in. But as contractors we have to take it on ourselves to learn what we need to know.
PM:What can young people gain by joining the plumbing and HVAC industry?
SR:They can gain an excellent opportunity at a career. We need skilled technicians, installers and journeymen plumbers. We have many people who come out of college and don't wind up in their field of study. We have others who don't go to college. Young people coming into this industry have to know math, be good with people and be good with their hands. They can get on the right path, make good money and make a career for themselves.
I'm surprised this problem hasn't solved itself through supply and demand. I think it will as young people discover our industry and recognize the need for our services. It's a job you can't ship overseas. Someone has to be here to do the installations and repairs. Training will take place either on the job or in an apprenticeship school.
PM:How is PHCC building its brand as an association?
SR:Our new branding campaign includes advertisements promoting the value of PHCC and hiring a professional contractor. We have a video series coming out later this year aimed at the contractor and promotes PHCC member benefits. Tool kits always have been available that are loaded with everything we offer from the Educational Foundation to help contractors round out their business.
A new mobile app for smartphones will be unveiled at the convention. We also are gathering feedback from state associations on a new branding effort that would result in a standardized logo for every state. It would be the outline of the state with same PHCC logo. This would give us some continuity to the PHCC logo, which is not always standardized. It's a good idea. It's just a matter of time before everyone uses the standardized look and that will help us.
PM:How do PHCC members become the recognized leaders in water conservation and energy efficiency?
SR:PHCC's Certified Water Auditor Program allows us to lend our expertise to the water conservation market. We had a Beta test version of the course last year at CONNECT 2012 in Philadelphia and offered it throughout the past year at the local level. We will offer the course at the convention again this year in Las Vegas. We're also keeping members informed of trends and tax credits.
It's always a topic for us because it is what we do. We have a library of materials that PHCC members can send to their customers or use to educate themselves. PHCC was a founding member of the North American Technician Excellence program. We encourage members to use NATE, which is under-utilized, in my opinion.
PM:You joined PHCC at a young age; what did you value most about that experience?
SR:The biggest thing was that I got to network with other contractors at national, state and local levels. I saw what other companies were doing and I got to meet these people. The concern about sharing your business secrets with the competition is a big myth. Sharing what works in your company is really an advantage. We're all people who have the need to share and there's plenty of work to go around.
The sooner you join PHCC the better. The more I got involved in PHCC through my wife Ann, the more I learned how valuable it was. It has really helped our business.
PM:Why should contractors take better advantage of technology in the office and field?
SR:They can get more done. It makes them more efficient and productive. I'm typical of contractors who don't understand everything that's out there. But if you take the time to learn to use tablets, smartphones and other devices, you'll be rewarded. The more you rely on technology, the more profitable you will be.
Contractors owe it to themselves to get help in this area either on their own or through other members of their organization. They need to keep up with technology or they will get left behind.
PM:If you had only one piece of business advice to give to plumbing and HVAC contractors, what would it be?
 SR:If they are not a member of an organization or trade group like PHCC, they need to get involved and network. Get involved in a good group and learn the easy way. The PHCC network is available to them. They should check out www.phccweb.org to see all we do and give it a try. 
---
HELPFUL LINKS: