Plumbing & Mechanical last month interviewed NIBCO Chairman and CEO Rex Martin at the company's headquarters in Elkhart, Ind., about lead-free plumbing products and other topics. The fourth generation of his family to lead the privately held manufacturer of flow-control products, Martin joined the company in 1975. He previously was president and held a variety of other positions at NIBCO.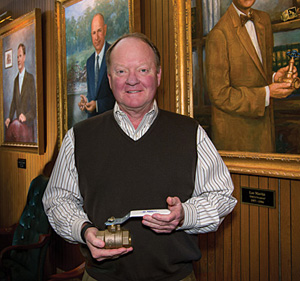 PM: NIBCO introduced a line of lead-free products 20 years ago. What motivated NIBCO to take such early initiative into lead-free products?
RM: One of the first things that happened when I became president in 1986 was the EPA banned 50/50 tin/lead solder. That was my first experience with the EPA's efforts to get lead out of the water supply. We retrained the industry on how to sweat pipe with 95/5 solder or the no-lead solder. From that point on, I believed ultimately the EPA was going to ban or reduce significantly the lead allowed in brass and bronze products.
In 1992, we worked with an organization that had patented a lead-free alloy, and we introduced a line of lead-free brass and bronze fittings and valves. It was the biggest failure ever because, as it is today, it is more expensive to produce lead-free products. Without a regulation forcing people to purchase lead-free products at a higher price, there was no market. It was that simple. Now, it's a government mandate.
PM: What did you learn from your early experience with lead-free products?
RM: The good news out of that for NIBCO is we know a lot about the strengths and weaknesses of the different lead-free alloys. We used a bismuth-based alloy in those days, but we picked a different alloy to go forward with now. It's a silicon PerformanceBronze that from our perspective and experience is a superior alloy to some of the others.
PM: How can plumbing contractors educate themselves on the federal lead-free law?
RM:We have a specific website, www.nibcoleadfree.com. They can go to our website, and some other manufacturers' websites contain information as well. The Get The Lead Out Plumbing Consortium, whose work is really just starting, also sponsors a website, www.gettheleadoutplumbing.com.  In 2013, the group will attend all sorts of industry events to put on training and education. The consortium will be at all the state PHCC events.
PM: When you spoke at the PHCC convention in 2009, you said contractors need to become familiar with technology and BIM specifically. Have you seen that happen in the last three years?
RM: Absolutely. At that time, BIM was relatively new and we thought that there really was only one type of building information modeling. As it turns out, engineers need one BIM, which is fairly high level to understand how products fit together. Contractors are interested in much more detailed information to help them put these products together in their fab shop. So now we are supplying two kinds of BIM information.
We get literally hundreds of downloads from the NIBCO BIM library on AutoDesk Seek every month for this kind of information. There are always fast adopters and slow adopters but we see BIM is being accepted rapidly and that will continue. We believe that mobile devices over a longer period of time will get more accepted and used in our industry. We're a strong believer in technology, and we want to fulfill our customers' needs in this area.
PM: Where do you see opportunities for plumbing contractors in the year ahead?
RM: All companies have to adjust to the new reality, and the good companies have. The new reality is slower growth. Everyone needs to be as professional as possible. There are opportunities. What we talk about at NIBCO is new products, new markets and market share. The economy is not going to help us right now. We have to be successful on our own — control our costs, make sure we provide high-quality products with exceptional service, and I think the same things are true for plumbing contractors. They have to be as professional as possible, look for opportunities, and they will find them. They probably will be in the repair and remodel segment rather than new construction.
But with all the new products out there, training is important. They have to continue to be trained on the new products, understand them and embrace them, even if they are used to the old ways. They have to try to embrace the new opportunities.
PM: How has NIBCO made its own products lead-free?
RM: Silicon replaces the lead. It's an alloy with far superior tensile, yield and elongation properties vs. other commercially available lead-free alloys. We pour it in our own foundry. So, we control the alloy and we think that is important. For us, lead-free is huge because we had to convert from using leaded alloys in our manufacturing processes to our Performance Bronze alloy used in our new generation of HYDRAPURE fittings and valves.
It has been a big job for us but remember, lead-free is only for drinking water. For other applications, such as HVAC, leaded products can still be utilized because they're not in the drinking water. We will continue to produce leaded products as well as nonleaded. We started our effort in early 2009 in preparation for California and Vermont in January 2010. We have a full complement of nonleaded product now, including other lead-free alternatives such as wrot copper fittings, PEX tubing and CPVC fittings.
PM: Is the market accepting lead-free plumbing products?
RM: Interestingly, we've seen our lead-free sales jump dramatically in 2012 from 2011 when really the only difference was that Maryland came on with its lead-free law. The jump has been much bigger than just Maryland, so people are beginning to use lead-free products before they're required.
PM: What can plumbing contractors expect to see from NIBCO in 2013?
RM: I'll step back before I go forward. Over the last five years, we've really worked very hard to introduce new product categories. We introduced press-to-connect fittings and valves, BlazeMaster fittings for fire-protection systems and PEX products. Those are new products for us and now represent a significant portion of our business. We think they will continue to grow over the next five to 10 years. In 2013, we will continue to introduce new products.
Just recently we've introduced push-to-connect fittings, which is not a new industry product but it's new to NIBCO. That is on the market now and it is lead-free. The other is automatic balancing and control valves, which go into commercial construction. We believe it will become a very important part of our valve business going forward. In 2013, '14, '15 and beyond, our growth will be through innovation and new products.
PM: You mentioned contractors' fab shops. Do you see prefabrication as a growing trend in 2013?
RM: We do. We believe it makes contractors much more efficient. The fab shop is more like a factory production area where they can achieve high efficiencies and good quality. Contractors can then take to the jobsite and install what they fabbed in their "factory."
PM: Are you concerned about the plumbing industry's future workforce?
RM: We need to attract more people to the industry. If we believe the statistics, we're running short of people in the industry, particularly plumbers. It's up to all of us to encourage people to be in the industry and project the right image. Not everybody is cut out to go to college.
We need to work with higher education to identify people when they are in high school to say: "Are you interested in working with your hands? You can make a great living being a plumber, electrician or carpenter and you don't particularly need to go to college but you do need to be educated and trained." It would help if we can do some of this when they're in high school rather than having them come out and say, "I need to spend four years as an apprentice."
PM: NIBCO recently redesigned its website. What new features make www.nibco.com more useful for contractors?
RM: Everyone needs to upgrade their websites to make them more user friendly, and we did that. One unique feature is Build-A-Submittal. On our website, a contractor can say, "OK, I want to submit this product to an engineer to get it approved for this building." He can build that submittal on our website and have it look very professional and hand it off to the engineer very easily. A contractor can do it or a wholesaler can do it for a contractor. Contractors also can go on our site to download specification sheets.
PM: What do you see as NIBCO's most distinguishing feature?
RM: In the early 2000s, we made a very conscious decision that we were going to be a manufacturer in the United States. That way we control the quality of our products. We believed we could compete in the United States building products here with U.S. labor. We said we're not going to Asia. We buy a little bit here and there but the vast majority we make here. Today, 94% of the pounds that we sell we produce. We believed we could do it in the United States and compete, and basically 10 years later we believe that even more. We have done it.
We continue to invest heavily in our domestic manufacturing facilities to make them better. We may not be the cheapest guy in the world but we're going to be competitive and control our own quality. One of the issues we see when you choose to buy product overseas is you lose control of the quality. That's not acceptable to us.
The other thing we think makes us very distinctive is the service we give to our customers today. The metric we use is called on-time complete. This is not fill rate. First, an order has to be 100% complete to count. The delivery also has to be on time, which means 48 hours or less from the time the order is received. So, we have two days from the time we receive it to ship it 100% complete. We do that 97.6% of the time. So, 98% of the time the customer is getting a 100% complete order. If one item is missing from an order, it gets zero count.
So, it is a very difficult metric. When we started, we weren't very good. We were below 75%. But the last three years, we have been above 97% in on-time complete. We think that is significantly better than industry average and gives us a competitive advantage.
PM: If you had one piece of advice to give to plumbing contractors, what would it be?
RM: Training is vital. You need to be educated about the industry and the opportunities in the industry, the new products and new techniques. You need to continue your education throughout your lifetime. You're not done with your education when you graduate from high school or college because there are advances in technology and the methods and products that are used. You have to be trained and understand the opportunities and how you can service your customer better.
NIBCO, Follow PM on Twitter!, Like PM on Facebook!, Contact Plumbing & Mechanical