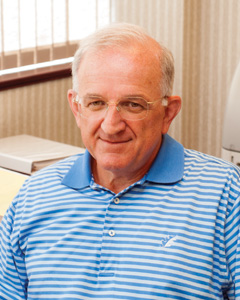 Ernie Elliott, senior vice president for Watts Water Technologies.
Photo credit: Watts Water Technology
Plumbing & Mechanical last month interviewed Ernie Elliott, senior vice president for Watts Water Technologies, about lead-free products and their impact on the plumbing and heating industry. The new federal lead-free law, which mandates the wetted surface of products contacted by consumable water contain less than 0.25% of lead by weight, will take effect Jan. 4, 2014.
Elliott joined Watts Water in 1986. His roles since then include vice president of sales, executive vice president of wholesale sales and marketing, and executive vice president of wholesale marketing. Before joining Watts, he was vice president of BTR Inc.'s Valve Group, a manufacturer of industrial and commercial products.
PM: What are the most important issues plumbing contractors, engineers and distributors should keep in mind when it comes to lead-free plumbing and heating products?
EE: The first thing they need to remember is that it will be illegal to install noncompliant products after Jan. 4, 2014. If engineers have already specified products for projects that will be built after that date, then those specifications need to be updated. If they are not up to date, their customers will run into issues during the construction phase.
Second, we believe anyone who specifies lead-free products needs to ensure they are specifying quality products. For manufacturers, particularly those using cast and forged components, making the change to lead-free is relatively complex. This is a significant change to plumbing products that have been using proven material compositions for many years. Selecting the right material specification for the product application is crucial.
Manufacturing processes also have to be modified and vetted to ensure proper transformation to the new materials. When feasible, we recommend that industry professionals ask product manufacturers about the type and amount of R&D they have put into the new materials' selection and transformation. We recommend that they do their research, especially given the recent recall of lead-free ball valves by the U.S. Consumer Product Safety Commission.
PM: How can plumbing engineers and contractors ensure against the possible ramifications of noncompliance?
EE: It's critical for anyone specifying or installing lead-free products, or designing potable plumbing systems, to know the facts — and be certain that information is coming from a trustworthy source. They must ask the hard questions about quality and compliance and shouldn't settle for incomplete answers. Our commitment to product quality includes, among other things, using NSF International and other third-party approval agencies to certify our lead-free product line for compliance. We are also investing in our own in-house testing equipment for verifying lead-free chemical and physical content.
Plumbing engineers, contractors and designers need to consider these issues in order to protect themselves against the possibility of legal or financial liabilities.
PM: How many lead-free products does the family of Watts Water Technologies companies offer?
EE: Many of our existing products already meet the new lead-free standard just by the nature of their materials, such as our stainless-steel backflow prevention devices, plastic fittings and PEX piping. A large percentage of our plumbing product line, which includes thousands of product SKUs, will be directly affected by the lead-free changeover. We've been preparing for this transition for several years, including researching lead-free alloys, expanding our best-in-class manufacturing and quality control processes and building a new foundry to exclusively manufacture lead-free products.
PM:  Why did Watts Water decide to make the investment in a new foundry?
EE: We made the decision to build a new 30,000-sq.-ft. foundry next to our existing foundry in Franklin, N.H., in order to eliminate the possibility of cross contamination between lead-free and standard products. This highly automated facility includes state-of-the-art process controls and molding, melt and pouring equipment. We plan to open the new foundry this spring. This investment, in addition to our other lead-free initiatives, demonstrates our ongoing commitment to supplying the highest-quality lead-free products in the industry.
PM:  Can you talk about your material specifications in manufacturing lead-free products?
EE: The exact specifics of our lead-free compositions are proprietary. We have done extensive R&D into compliant lead-free alloys and in most applications have chosen silicon copper-based alloys. We've also worked closely with our raw material suppliers around the world to ensure the compliance of their materials, including helping to enhance their manufacturing process capabilities.
PM: Watts Water was one of the first companies to educate the industry on lead-free products. Why did you feel it was important to take the lead?
EE: The transition to lead-free is a major change to certain segments of the plumbing industry. As a leader in the industry for more than 135 years, we felt it was important to make an educational commitment to the people affected by this change. We created www.WeAreLeadFree.net in 2009 to serve as a hub for educational resources for the industry, including videos, FAQs and case studies. We continue adding new material to this site on a regular basis, but we've also expanded our educational efforts to include live events, webinars, speaking presentations and trade show exhibits.
PM: What other initiatives has Watts Water put in place regarding lead-free plumbing products?
EE: There are still some questions surrounding the exact interpretation of the new law, so we continue to work closely with the Environmental Protection Agency and industry associations regarding those details. We are also a founding member of The Get the Lead Out consortium, a group of trade associations and manufacturers organized by the Plumbing-Heating-Cooling Contractors — National Association Educational Foundation to collect lead-free educational resources for engineers, contractors and wholesalers. They can get more information on our efforts at www.WeAreLeadFree.net.
---
HELPFUL LINKS: