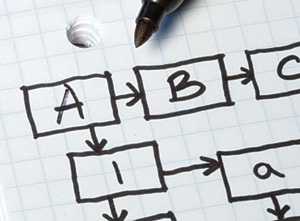 Photo credit: ©istockphoto.com/cmcderm1
Is it true that systems can make any company run better and be more profitable? Yes!
Is it also true that systems can make it possible to run your company successfully without you having to ride to the rescue to save the day? Can you depend on great staff to overcome a lack of known and practiced policies and procedures? Yes!
Here's the real beauty of known and practiced systems — they help in bad times and in good times!
During the recent recession, you couldn't afford to blow the precious opportunities you got from your marketing. You couldn't afford to squander the incoming calls with customer service reps that weren't terrific. And you couldn't afford to waste the sales opportunities of each of the big-ticket calls your salespeople went on or the service calls your techs ran.
Each misstep would have compounded the next misstep.
But doing each step correctly helps build momentum for what comes next.
Putting systems in, whenever you do it, helps you when you're struggling through slow times and it helps you have manageable growth during the good times. The best of companies I've worked with actually grew during the recession because they applied their systems and benefited from all the competition that went away.
Most experts believe the worst of times are behind us, and that bigger and better times are ahead. I'm not implying that we're going right back to the heady days of 2004 through 2007, but we're also not likely to be going back to the scary days of 2008 and 2009.
Working on systems that address everything from paying bills, entering invoices, answering calls, dispatching, having your trucks set up the right way and having people trained to excel will help you capitalize on what is already a significant uptick in housing activity.
A great way to see where you may be dropping the ball is to do a flowchart of each of the business activities your company must do to serve your customers the right way. This means you can keep your promises. Systems also apply to budgeting and other financial metrics that help you know where you are at any minute financially. 
Are you ready to take advantage of a better economic environment?
Probably not! That is, unless you know how to scale and leverage what it takes to own and operate a repeatable business. 
Just as a restaurant must be able to take orders right, cook meals right and clear the table when it's a crazy busy Saturday night,  contractors must be able to answer phones the right way when they are ringing off the hook, dispatch techs in a way that maximizes their  talents and train techs properly so they have great sales, operational and technical skills. 
Don't forget that many systems also must be in place for accounts receivable, accounts payable and human resources departments so they can run efficiently.
Most companies I talk to haven't contemplated how to even prioritize what calls to run and how to ramp up with the amount of work suddenly pouring in. The problem for them (and for you if you're like them) is they're not committed to do what they must do to work on the business vs. putting out fires. 
Waiting to figure it out when you're already overloaded with work is sad. You're going to end up ill-prepared for the upturn and that's also sad.
Marketing discipline
But if you have mastered what it takes to run your business today and how to grow your staff the right way, you're left with the happy task of making your marketing systematic so you get more of the right calls at the right time and from the right customers.
To do that, you need to have discipline for the following when it comes to marketing in a way that is repeatable:
Have a marketing budget that's aggressive enough based on a percentage of sales to keep the phone ringing.
Have a marketing allocation plan that is better weighted to what will cause potential customers to pick up the phone now and call you.
Have a marketing calendar that has you marketing throughout the year and especially in the known slow times so you can avoid a severe drop-off in business.
You need to have CSRs who can handle  incoming calls in a way that makes the caller feel confident he made the right call, then switch to an outbound CSR who actively calls customers and prospects to create work. This takes scripts that are known and a lot of phone role-playing.
You need salespeople and techs who are disciplined at how to ask good questions, take a look around so they see the whole home and make appropriate suggestions, and use their sales skills learned from a practiced sales system that makes maximizing every opportunity a reality.
With these systems, like solar systems, the sky is the limit!
---