Viega LLC recently promoted Vice President of Supply Chain Operations Robert Boots to chief operations officer, which goes into effect this October. With 22 years of experience in plumbing manufacturing and logistics, Boots has worked in every aspect of a supply chain, from extrusion to logistics and more.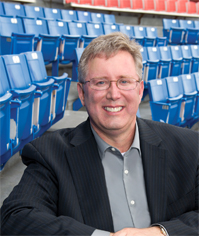 Robert Boots
"I actually love coming to work every day, not just because of my role," Boots said. "I've always loved it. I am part of a team that is not content with mediocrity or the status quo. Even when we think we're at the top, we find another mountain to climb. That's what makes it so rewarding."
Boots managed the Vanguard PEX manufacturing plant in South Carolina from the time he was 28 and moved to McPherson, Kan., when the South Carolina plant closed in 2001. In 2001, he became the plant manager at the McPherson facility. In 2009, Boots became Viega's vice president of Supply Chain Operations, which included many departments such as manufacturing, purchasing, logistics and quality assurance.
"In order to be a great leader you also have to be a great follower," Boots said. "My role is to help Dave Garlow succeed as the CEO of Viega LLC and to help Viega LLC grow."
Boots believes that the industry needs to be dedicated to quality products and solutions and he feels that Viega LLC is committed to quality, not just error-free products but safe products. Viega is a company committed to customer service, innovative solutions and continuous improvement.
---
HELPFUL LINKS: