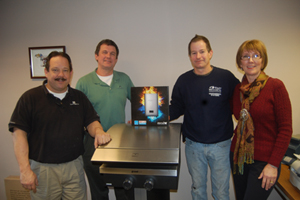 From left: Peirce-Phelps's Jim Pettit and David Lamb and Diane Camburn (right) award Foley Mechanical's Tim Foley a top-of-the-line grill from Eternal water heater parent company Grand Hall.
Medford, N.J.-based Foley Mechanical won a Q4 sales competition sponsored by Philadelphia-based distributor Peirce-Phelps and Eternal hybrid water heater manufacturer Grand Hall. Foley Mechanical won a top-of-the-line Grand Hall grill. 
Peirce Phelps introduced the Eternal hybrid water heaters to its customers in June 2012 and has seen a big increase in the product within its dealer base. Foley Mechanical was an early adopter of the water heater and installed the full product line for its customers to provide constant hot water and energy-efficient solutions.
"Our customers have appreciated the innovations Grand Hall has made with the Eternal hybrid water heater including high efficiency, resolving issues other tankless manufactures have with drops in hot water pressure and the simplicity to install," Foley Mechanical owner Tim Foley said. "Grand Hall and Peirce-Phelps stand behind the product and work very closely with us to ensure we bring the product value to our customers."
---
HELPFUL LINKS: