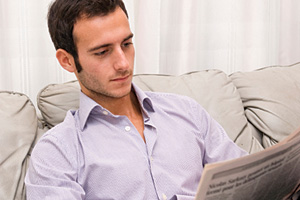 Photo credit: istockphoto.com/franckreporter
You see them every day. You hear them, too. They promote and persuade publicly, but through "private" methods, closely guarded by the few — the very few — who understand how they work.
Hundreds of millions of dollars in sales are generated mostly by the "stealth" marketing tactics of publicity. I don't even talk about it much, so don't expect a series from me on this topic. In a way, the publicity about publicity kind of ruins the magic trick. Consider this your very brief crash course.
Oh, and in case I overlooked it, publicity is free. That's right. No charge. None. You can't buy it. Think about that.
Publicity can't replace direct-response advertising as a way to generate leads. But it can certainly increase your company's name recognition, image, brand and serve as powerful reinforcements to your customers.
For any type of business of any size — from local to global — the most common form of publicity is the Internet. Think website, sure. You need a presence on the Web like you need a phone in your office (or in your pocket) and a sign on the door. This is how people look for you, how they learn more about you and how they reach out to you as an expert in the industry. 
Yes, today's website is yesterday's Yellow Pages as far as providing contact information and service listings. But it's also yesterday's switchboard, yesterday's suggestion box, yesterday's discount coupon, yesterday's direct mail, yesterday's radio ad …
Internet publicity — including emails to customers, articles, printable discounts, blogs, podcasts, videos and anything else regular media can do that technology can do better — is ripe for the harvest. So make the most of your 2013 marketing strategy by keying into the valuable technological tools at your disposal. 
But don't forget, through publicity in your local media, you build top-of-mind awareness and also credibility through a third party — meaning someone's spreading a good word about your company that isn't coming from your own paid advertising. Big difference.
There are a couple of caveats, however. One is that the publicity must be positive!
The second caveat is that "free" doesn't mean "easy." The trouble with publicity as a promotional tool is many people think that since it's free, it doesn't take any work. That's why so many amateur attempts rightfully end up in failure.
Common methods and established traditions are simple to duplicate once you know what they are. It all starts with the thing most people get wrong …
Powerful press releases
Press releases are the news and announcements you want the world to know about. Easy enough, right? Hold on, because this is where everybody messes up. They're intended to inform, not to sell or advertise. If a release is strictly promotional, it will be summarily tossed. Use your press release to solve a problem or fill a need for the benefit of the reader, listener or viewer.
Thus the hardest pill for publicity seekers to swallow is: It's not about you. The obvious message is to the audience. The subtle and supremely powerful subconscious message is, however, aimed squarely at you. Therefore, crafting a release that gets published is the most difficult task … and why good publicists are paid millions.
Press releases can cover a variety of subjects. In the case of plumbing companies, releases come from a few general categories — company news, industry news, safety issues, seasonal changes, homeowner benefits (time- or money-savers) and even "pointed" items such as avoiding scams.
Company news is the easiest. Most major online and offline newspapers have business sections that allow companies to announce new hires. When you hire a new salesman, technician or office worker, make that announcement by sending a press release to your local paper's business editor. These releases can be sent throughout the year.
Clearly, homeowner benefits and "pointed items" make great news. No boredom allowed. Editors generally see a benefit to running stories like these. So it makes sense for you to carefully weave "your" angle into these releases by quotes, offers and expert opinions. In that way, it becomes hard for the editor to take you "out" of the story.
Press release style and format
Press releases have a certain look. They follow a standard format and include the same basic elements.
First, use your letterhead to give your release the authority of a "company announcement." Then make sure it's clear who in the company is sending the release and who needs to be contacted if more information is needed. Put your name, title and phone number — even your email address — beneath the letterhead information.
Next, the phrase "FOR IMMEDIATE RELEASE" should appear at the top of the page, flush left, under your contact information.
Leave one or two blank lines, and then write your headline in a bold typestyle. Use a strong headline that makes it clear why this information is important. Skip a line, then add a "dateline" that gives your location (city and state) and the date of your release. A long dash usually separates the dateline and lead paragraph.
This first paragraph is crucial. You need to grab the reader's attention, and you also need to make sure it includes the essential "who, what, when, where and how" information. Fully explain your message in the paragraphs that follow.
Getting the word out
Now that you've got a great release, you're ready to send your information out to the world … almost. First, send your releases only when you have something worth saying.
Sending lots and lots of releases won't increase your chances of publication if they aren't any good. If an editor begins to notice that the releases you send have little or no value, the editor will start to ignore them.
Once published, go ahead and start promoting your release. If an online magazine or newspaper publishes your release on their site, why not start sending people to it. Use social media such as Facebook, Twitter or LinkedIn to direct people to your release.
These simple (not to mention free) platforms are a great way to draw readers to your release and assist in establishing yourself as an industry expert.
Don't be discouraged if your release isn't run. Often, you're still "positioning" yourself and company as an expert so you'll be the likely person for a quote or interview when a story about plumbing does break.
If you know the name of the reporter or editor, you can address the press release to that specific person. If you don't, address it to the appropriate title. The general rule for titles in most media organizations is as follows:
Daily newspapers: City editor (or Business editor if it's company news);
Weekly newspapers: Editor;
Magazines: Editor;
Online publications: Editor;
Radio stations: News director;
Television stations: News director.
Once you've sent the release, resist the temptation to follow up. You will annoy most editors by calling or emailing to see if they got your press release. You can send a cover letter that offers a quote or clarification, which is a good way to introduce you as the contact.
 Regardless, most of your competition will not even attempt free publicity, which leaves the door wide open for you. They'll wonder how you got in the news, on the radio or seem to "always be out there." And it'll be our little secret … 
---
HELPFUL LINKS: