Recently I found myself in Virginia immersed in a week of training for an incredible service company. This company has an unbelievable culture and still has some great opportunity for improvement. (Don't we all?)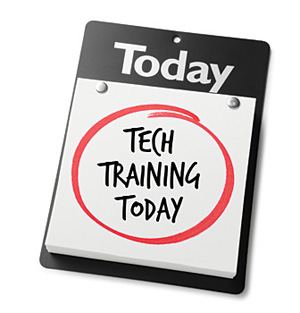 As I worked my way through the week inside this business, I learned more and more each day about its culture and technician beliefs, and its approach to customer service and sales. This inspired me to write a column to remind us all that training is the pivotal aspect of everything we do in the field.
One of the things that truly hurts my heart  when it comes to clients who receive my monthly technician training videos is when I hear the comment, "Kenny, we love your information, we think the videos are really great and we see the value in using them, but … we just don't have time to utilize your program."
Really? You don't have time to put on a 30-minute training meeting for the frontline face of your company once a week? This is an unfortunate perspective. I know we all spend a great deal of money on marketing, trucks, tools and -----___________ (you fill in the blank), but until we really begin to understand that training our selling technicians is one of the best investments we can ever make, we will continue to experience the same challenges over and over again.
Please understand that I'm not bringing you this message today because I'm a technician trainer in the sales and customer service realm. Rather, I want to provide you with this message because I own a service business just like you do that runs live calls every single day. I've experienced the very real differences in results in my own company based on how effectively our technicians are trained in communication skills.
Consistent message
We can all agree on some level that, more often than not, our technicians do not want to be regarded as "salespeople." We have such negative connotations surrounding the concept of sales in our industry. We somehow have the misconception that we must have some sort of alter-ego within us who needs to come out once we sit at the kitchen table to offer some options.
This is simply not true. Our technicians can succeed in customer service and sales by just opening up to what's possible regarding customer interaction and true service potential. An effective sale happens in our industry when a good relationship is built on trust and the customer understands that the company and technician have the customer's best interest at heart.
The only way to ensure the formation of this positive customer relationship is to consistently provide our frontline team members with better communication skills, then train them again — more often, more consistently and repeat the process. A training system is not something we should implement only when we have a glaring issue or need to "enforce a new company policy." (Even writing the words company policy makes my skin crawl.)
We want our selling technicians to tap into the true potential of the service call and create a better experience for the customer than they've ever had before. At my company, we call it the Ultimate Service Experience and there are 12 simple steps for delivering the process effectively. However, it must be consistently trained in different ways, from different angles, based on different experiences.
What happens in the training room and what happens with customers in the field are often two different things. We need to get our managers in the field performing a clear and consistent ride-along program. Once you get out there and inspect what is really going on during customer interactions, perhaps you'll see the importance of a consistent training program.
I know and believe in the value of training so much that I hire outside consultants and sales trainers at my own company. I do this in order to help my team receive impactful information from someone other than my great company leaders. It's important for your team to hear a similar message from different people being delivered from their unique perspectives. We call this third-party verification and it works wonders for developing cohesiveness within your culture.
Small bites
You don't have to set aside a crazy amount of hours per week in order to accomplish this seemingly daunting feat of implementing a quality training program. In fact, I'm a big fan of short meetings more often and long meetings less frequently. Devote 30 minutes twice a week to going over some basic communication techniques. Help your technicians recognize and understand the value of training in an area other than just high-level technical skills.
The game of service and sales has changed in our industry, my friends. It's no longer about having or installing the best widget for a customer. Now, it's all about connecting with that customer and having him trust, believe and understand why your technician is the best solution for him, regardless of the specific type of service or maintenance call.
This is all about your personal goals and helping people reach their own true potential. Potential is a very powerful thing. Every time I perform my sales program for a company, I observe selling techs failing to reach their true potential for a myriad of reasons. Most commonly it is the result of a company culture that does not focus on helping the technicians reach their true potential.
As leaders in this industry, we've got to make some choices regarding the priority we place on things like helping our technicians become all they can be at our companies. The better trained and educated our technicians become, the better positioned they are to educate our customers regarding our company's value proposition.
If I can ever help you with meeting topics or strategies, feel free to email me directly. I have a real passion for helping people reach their potential and my mentors have made it clear that I have a responsibility to continue to help this great industry prosper, one company at a time.
Follow PM on Twitter!, Like PM on Facebook!, Contact Plumbing & Mechanical