Brooks Plumbing owner Terry Middlebrook uses his 2004 Chevy box van as another weapon in the fight to stay dry while on residential service and repair calls.

Brooks Plumbing's 2004 Chevy box truck -- side view. (Photo credit: Terry Middlebrook.)
Living in the Seattle area means dealing with rainy weather.

"I love the rain," Olympia, Wash.-based Brooks Plumbing owner Terry Middlebrook states. "I grew up in west Texas where it's extremely dry. When I came here, I felt like a dry sponge. You do get a little tired of the rain in late January or early February, but as long as you dress for it, you're fine."

Middlebrook, an Abilene, Texas, native who moved to Washington in 1990 and started his own company in 1994, does more than just dress for the wet weather. He uses his 2004 Chevy box van as another weapon in the fight to stay dry while on residential service and repair calls.

"I like the inside-access boxes better because of the rain factor," he says. "We can access most of our things from the inside. Down in Texas, everybody wants to use pickup trucks because it gets so hot inside the boxes. Up here, it's the exact opposite. It's nice when you get in there."

The 2004 van has a workstation in it and ample storage space.

"We can work on things in there and bring them back into the house and stick everything back together," says Middlebrook, a member of the Quality Service Contractors best practices group. "We can fit a bathtub in the back end and there is enough shelving to stock just about anything. Anytime we are on a job and not sure how to fix something, we have two or three different ways we can go."

Brooks' service fleet also includes 1998 and 2003 Chevy ambulance-style vans, which also feature the roomy work areas. All of the company trucks have a fiberglass roof.

"On dark winter days, you can see pretty well," Middlebrook says. "It gets real dark about 4:30 p.m. here in the winter. The fiberglass roof helps with that."

Back view of Brooks Plumbing's 2004 Chevy box truck.
Brooks Plumbing trucks are easy to spot around the 50-mile radius the company covers. A photo of Middlebrook holding different service slogans adorns the sides of each truck. In the photo above, he's holding a sign that reads, "You can trust my technicians to understand your needs."

"Anybody can put faucets and water heaters on a truck. Everybody expects that service," he explains. "With my picture on there, I'm stating that you can trust us to be on time, take care of your needs and provide up-front pricing."

Having his photo on the truck generated an interesting in-the-field story.

"I was at a red light once and a kid in the car next to me was going bananas trying to get his mom's attention because the guy on the truck also was driving it," remarks Middlebrook, who credits his wife, Ruth, for shortening the company name so it would be closer to the front alphabetically in the Yellow Pages.

"For better or worse, I have my face associated with the company," he says. "It's been a good thing in that people can see there is a face to the company. It's helped build our reputation quite well."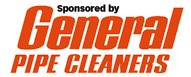 Show Us What You're Driving!
Think you have a vehicle worthy of PM's Truck Of The Month? Let us hear about it!
Send us photos of your service fleet electronically by e-mailing us
(Editor@PMmag.com), or mail us your prints to:
PM - Truck Of The Month
155 N. Pfingsten Road
Suite 205
Deerfield, IL 60015
PM's Truck Of The Month is sponsored by General Pipe Cleaners.
Links