Premier Plumbers of Texas is prepared for success.

Photo credit: Premier Plumbers of Texas
When James Stinebaugh started McKinney, Texas-based Premier Plumbers of Texas in 2005, he wasn't going into the venture with a blind eye. He previously was general manager of a new construction plumbing company.

"I was fortunate because the guy I worked with before  taught me the ins and outs on how to run a new construction department," Stinebaugh says. "When I joined Nexstar, it opened my eyes up right quick on the proper way to run the service side."

Today, Premier Plumbers of Texas is thriving in the Dallas-Ft. Worth metro area with a distinctive brand that provides exceptional customer service. Stinebaugh says  Premier does 65% of its business in new construction and the other 35% in service.

"We'd like to get to more of a 50-50 split," he says. "We saw some down years in new construction, so it was a real blessing we started the service department. We are starting to see an upturn in new construction, which is great for us. We're in a very good area. Collin County has been listed as one of the top growing counties in the country and continues to be that way."

Stinebaugh has a fleet of three service vans, which includes a pair of Isuzu vans with Hackney boxes and a Chevrolet cutaway van. A third Isuzu van with a Hackney box is on the way.

Photo credit: Premier Plumbers of Texas
"Hackney does really well for us," he says. "We are never cramped for room. We can carry three water heaters [Rheem] and all the other nuts, bolts and faucets [Moen]."

Premier's service vans feature an eye-grabbing giant faucet with a drop of water containing the company's logo on one end and a larger version of the company logo on the other. A cascade of water stretches across the bottom portion of the box. The design is the brainchild of Premier's Office Manager Stephanie Hulon and Plano, Texas-based Complete Graphics Solutions.

"We wanted to be consistent with what was on our website. We were going after a complete branding effect," Stinebaugh says. "Consumers are remembering the trucks. It amazes me that people think we have 15-20 trucks rolling around. We know it's catching their eyes."

A catchy logo on a truck is only part of Stinebaugh's success strategy. "We learned that if you want to be a profitable service business, you have to be the company that offers more to customers in the way of full service for their money," he says.

"The only way you make that happen is give them service they have never experienced before and show them added value. Several customers chose our company to provide service, even though we were a bit higher on our quote, but they wanted the confidence of our professionalism, warranties and company."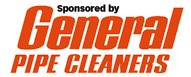 Show Us What You're Driving!
Think you have a vehicle worthy of PM's Truck Of The Month? Let us hear about it!
Send us photos of your service fleet electronically by e-mailing us
(Editor@PMmag.com), or mail us your prints to:
PM - Truck Of The Month
155 N. Pfingsten Road
Suite 205
Deerfield, IL 60015
PM's Truck Of The Month is sponsored by General Pipe Cleaners.
Links