Intelligent Plumbing Services always has a smart business plan.

Photo courtesy of Intelligent Plumbing Services
The folks over at Palatine, Ill.-based Intelligent Plumbing Services have worn their thinking caps from the day they decided to step into the plumbing service world 2 1/2 years ago.

"We had been doing high-end new construction and some commercial work," Intelligent Vice President Jason Kerr states. "We saw the writing on the wall that new construction was drying up. We decided to go into service work."

The transition, however, brought with it some major culture shock.

"Service work is a whole different animal," states Intelligent President and Jason's father, Bob Kerr, whose 33-year-old Kerr Mechanical Corp. is Intelligent's parent company.

Jason Kerr, a 32-year-old energetic sort who admits he's obsessed with growing the business, quickly realized construction and service work don't necessarily mesh well.

 "You can't bring new construction site habits into Mrs. Jones' home. She's interested in the red carpet and white glove service," says Jason Kerr one recent afternoon at the company's northwest suburban Chicago office.

To help with the transition, the Kerrs joined best practices group Nexstar. Jason Kerr also had a chat with plumbing industry legend Frank Blau.

"A friend of ours turned us on to Frank's book, 'The Business of Contracting.' I read it about 1,400 times before I ordered one of his DVD sets," Jason Kerr recalls. "Frank called back and we ended up talking for 45 minutes."

The Kerrs say taking a step back and learning the ins and outs of the service business before rushing into the field guns ablaze is the smartest thing they could have done.

"You are going to pay for it one way or the other, either by the mistakes you make or by someone coaching you," Bob Kerr notes. "It's worked out great."

Through the likes of staff education, offering a 24-7 service guarantee and being open to tackling just about any service-related plumbing issue, Intelligent has prospered despite a tough economy. Jason Kerr reports business is up 26 percent over last year.

Intelligent employs seven plumbers and has a fleet of nine trucks, including the company's signature 2007 Mitsubishi FE 140 with Hackney P2000 box.

"When we show up with that, the customer knows we're serious," Jason Kerr says.

The company's "Intelligent" handle circles back to the education topic.

"Multiple customers have told us we're like scientists," Jason Kerr says. "My dad taught me to understand why we do what we do - to understand the science behind it. And one person that describes intelligent is Albert Einstein."

Thus, having a rendering of a service uniform-clad Albert Einstein on the truck was a no-brainer.

"Einstein said if he could live life again he would be a plumber," Jason Kerr notes. "He had an honorary plumber's license."

Intelligent owns the drawing of Einstein (Alex Rearic drew his head and Krista Lawrence drew his body). Mount Prospect, Ill.-based Studio D (Dorothy Ryan) did the design, while Samir Ali of SignZoo (Sarasota, Fla.) produced the truck wrap.

Intelligent's management team emphasizes that its strong referral business, service contract club and the continued use of flat-rate pricing will help the company continue to surge forward.

"The most pivotal change for us has been flat-rate pricing," Intelligent Service Manager Neal Deacon states. "Without that, no way, shape or form would we be where we are now and that truck would not exist."

Jason Kerr adds: "We have an extremely dedicated group here. We're going to keep going down the same path and take it to the next level."

Intelligently, of course.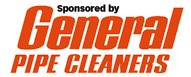 Think you have a vehicle worthy of PM's Truck Of The Month? Let us hear about it!
Send us photos of your service fleet electronically by e-mailing us
(Editor@PMmag.com), or mail us your prints to:
PM - Truck Of The Month
1050 IL route 83, suite 200
Bensenville, IL 60106
PM's Truck Of The Month is sponsored by General Pipe Cleaners.
Links