It's not often that a 27-year-old decides to start his own contracting company, but in the case of Ryan Osterkamp, that's exactly what happened.
After graduating high school, Osterkamp entered the trades, becoming a technician for a local home services company in Cincinnati. There, he saw many people in need of HVAC and plumbing services, so he decided to create his own future within the industry and founded Quality Comfort Heating & Air Conditioning in 2011, which evolved to Quality Comfort Home Services when the business added plumbing services to its offerings. Today, the company provides duct cleaning services for clients as well.


---
"Our wrap design is bright and colorful, and you'll immediately know what kind of work we do when you see it" – ELIZABETH KUERTH
---

With its slogan: "The services you need, the quality you can trust," Quality Comfort Home Services is growing quickly. After 11 years in business, Quality Comfort now boasts 21 employees and nine fleet vehicles. The fleet models include the 2015 and 2016 Ford Transit as well as a box truck.
According to Quality Comfort Home Services' Marketing Director Elizabeth Kuerth, the Cincinnati market is very competitive in the home service industries. When it redesigned its logo, the company needed to make sure its trucks were memorable in a market flooded with HVAC and plumbing contractors.
"Our wrap design is bright and colorful, and you'll immediately know what kind of work we do when you see it," she says. "Our design is different because it is very bright, encompasses the entire vehicle with lots of color and does not use any vendor logos or product imagery on it. Orange was chosen because it's Ryan's favorite color. The blue was chosen from the original logo, then we added an additional blue to present plumbing and complete the 'whole home services' feel."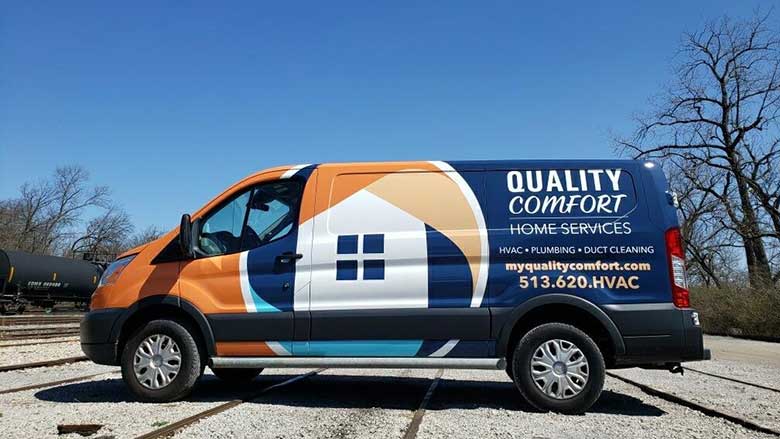 Quality Comfort hired a graphic designer to come up with some ideas for the truck wrap. Once Osterkamp narrowed it down to two possibilities, the company put the designs on its social media accounts and let Facebook fans vote for their top choice.
"We wanted the new version to stand out and be more memorable," Kuerth notes. "And we have received more calls saying they saw our vehicles out and about — the response has been great."
Quality Comfort prides itself on its customer service, Kuerth explains.
"We are a growing company, but each customer feels like we are a small company," she says. "We also do everything in our power to make the customer happy when possible and correct mistakes if they do happen."