On any given day inside a former K-6 schoolhouse in Elyria, Ohio, trade professionals can be found learning about the latest tools from RIDGID and how best to use them on the job site. Located at RIDGID headquarters, 30 miles west of Cleveland, the Schoolhouse Training Center sees more than 500 people enter its doors each year for customized training with expert trainers.
"Our Schoolhouse is one of our key training initiatives and a program that we remain committed to because of the positive feedback we hear from participants," said Tim Kopp, training manager for Emerson Professional Tools. "We've considered ourselves a guardian of the trades for almost 100 years and are always looking for new ways to support the current workforce while attracting new professionals to the field. Our hands-on training has been one of the most effective in engaging professionals."
Professionals have come from around the world to learn how to utilize their tools better. Since the Schoolhouse opened its doors 27 years ago, distributors and contractors have visited to get hands-on instruction and demonstration of the proper use of products, have their questions answered and explore classrooms dedicated to different product lines. The space was recently renovated and now includes electrical training space for Greenlee, RIDGID's partner brand in the professional tools division of parent company, Emerson, as well as expanded video/virtual training systems.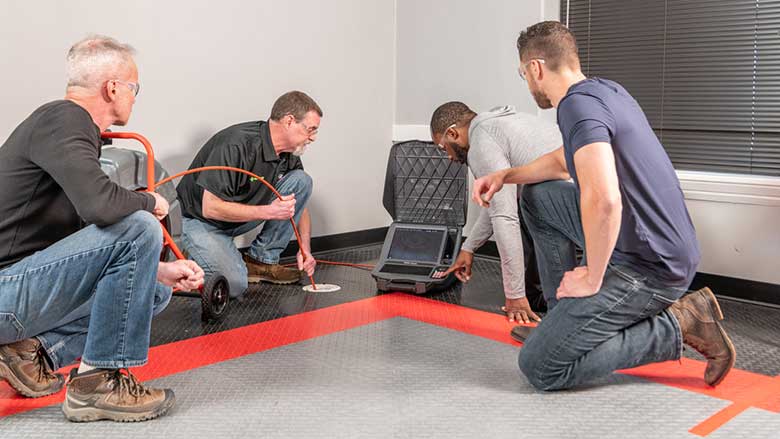 "One of the greatest benefits of the Schoolhouse is being able to walk in a room and have a student safely put their hands on and operate any and all of the products," said John Blakemore, training specialist at RIDGID for 18 years. "There seems to be a greater understanding and appreciation from students when they actively participate and use the equipment."
RIDGID has been committed to the trades since it introduced its iconic pipe wrench in 1923. That commitment continues today with a focus not only on those already in the trades but also on inspiring future generations to consider a career in the industry. The shortage of professionals in the trades continues, and the urgency to train new professionals remains.
With that need in mind, the RIDGID training team is expanding on an already successful program in the electrical market. Greenlee has developed a certification program for vocational and technical schools that aids instructors in training for the trades. The certifications developed in partnership with the National Coalition of Certification Centers (NC3), are being expanded to address the certification of skills for future plumbers and pipefitters. The certification programs will include a standardized curriculum taught in a classroom environment and competency-based, hands-on lessons in a simulated work environment. Examples of courses include: pressing for HVAC & plumbing, power machine threading, manual and hand-held threading, and several more.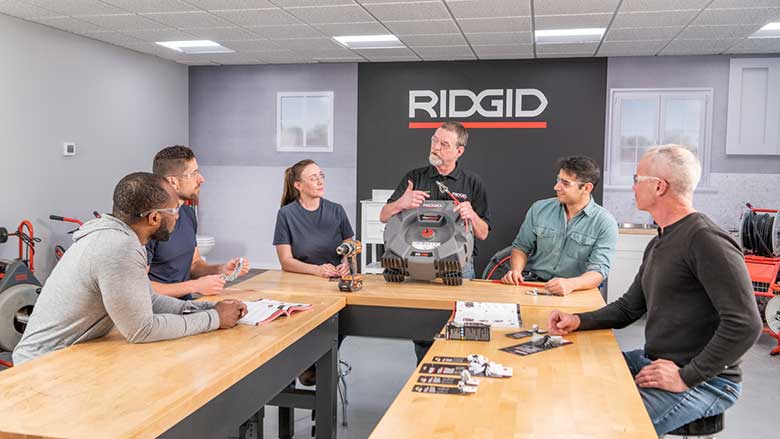 "The expansion of our successful certification program with NC3 is a logical step to help recruit and grow the apprentice programs throughout North America," said Kopp. "We have 100-plus schools, teaching over 1,000 students specific trades skills with stackable certifications that demonstrate to employers the apprentice candidate has a functional knowledge of the skills needed and an advanced interest in the trades. Quickly expanding this program into plumbing, pipefitting, and HVAC training is critical."
Along with hosting its own training, RIDGID regularly invests in scholarships and donates training products to industry events, including those held by trade union training centers, private and non-profit apprentice training programs, SkillsCanada, and the PHCC — National Association.
"Supporting industry training centers, events and providing scholarships has provided another great opportunity for us to be involved with training future trade professionals," said Kopp. "It's inspiring to interact with participants at these events and hear about what positive role they want to have on the industry and understand how we can support the development of the students and apprentices."
Along with these more traditional training avenues, RIDGID regularly seeks new ways to engage with the trades.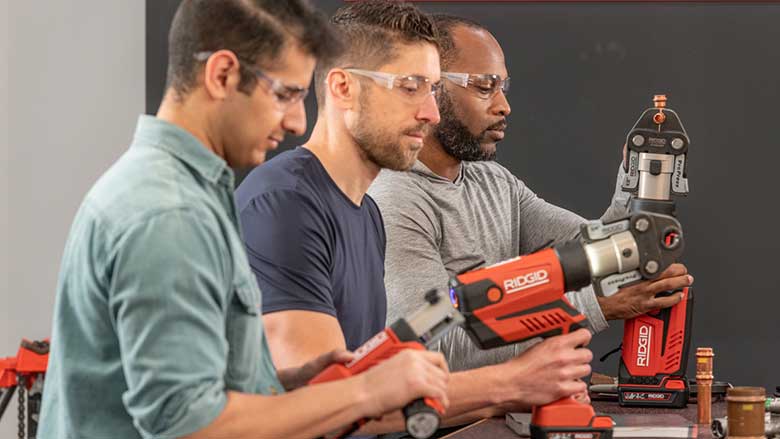 For example, during the pandemic, it introduced JobSite Live. This virtual Instagram Live event series hosted by both RIDGID and Greenlee allowed professionals to interact with peers and ask questions about everything related to the skilled trades. The kick-off session on diagnostic and monitoring technologies was viewed more than 12,000 times in the first week and to-date the series has had over 300,000 views.
"RIDGID is known for keeping in touch with professionals on a personal level. With tradeshows and large-scale in-person events on hold during the pandemic, it was important for us to find a way to still have these meaningful conversations," said Becky Brotherton, director of engagement marketing, RIDGID for Emerson. "JobSite Live provided an opportunity to talk to and interact with contractors on their schedule, giving them the educational resources and expertise they rely on from RIDGID."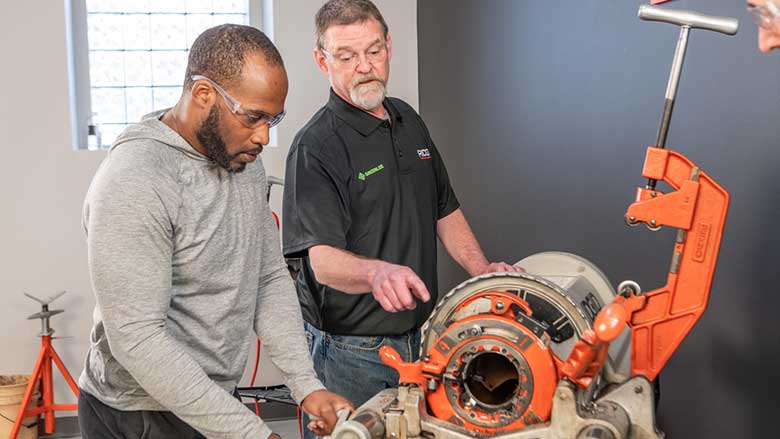 From the success of JobSite Live, the RIDGID trainers at the Schoolhouse have completed a significant investment in state-of-the-art video and audio equipment to facilitate more personal and engaging virtual live events for end-users and distributors. The series still continues with RIDGID and Greenlee regularly hosting sessions on their respective Instagram channels.
Training in all its forms will always be an essential part of what RIDGID does to support the existing workforce and future generations.