Service contractors are busy people. Already struggling to find workers amidst an ongoing labor shortage, plumbing and HVAC contractors saw demand soar during the pandemic as most people transitioned to a work-from-home environment. The repair and replacement market boomed as aging mechanical and plumbing systems struggled — and failed — to adjust to the increase in use with entire families stuck at home. With increasing demand, plumbers and HVAC techs are finding new ways to streamline workflow, and it all starts with their tools.
"Shifts in the national labor market have been the biggest changes affecting the drain cleaning industry since the pandemic," says Dave Dunbar, national sales manager for General Pipe Cleaners. "Plumbers and drain cleaners are having a harder and harder time keeping a pre-pandemic number of trucks on the road because they can't find people who want to do this difficult job. Business owners have had to pay much higher wages to attract competent workers, and this has affected prices to the consumer. Because they are understaffed, many large drain cleaning companies are no longer able to handle the demand, and this has allowed smaller companies to enter the market. Some of these newcomers are plumbers who had never done drain cleaning before, and some are unlicensed contractors rushing into the economic vacuum. Regardless, we notice that the newcomers are purchasing more and more drain cleaning equipment from General."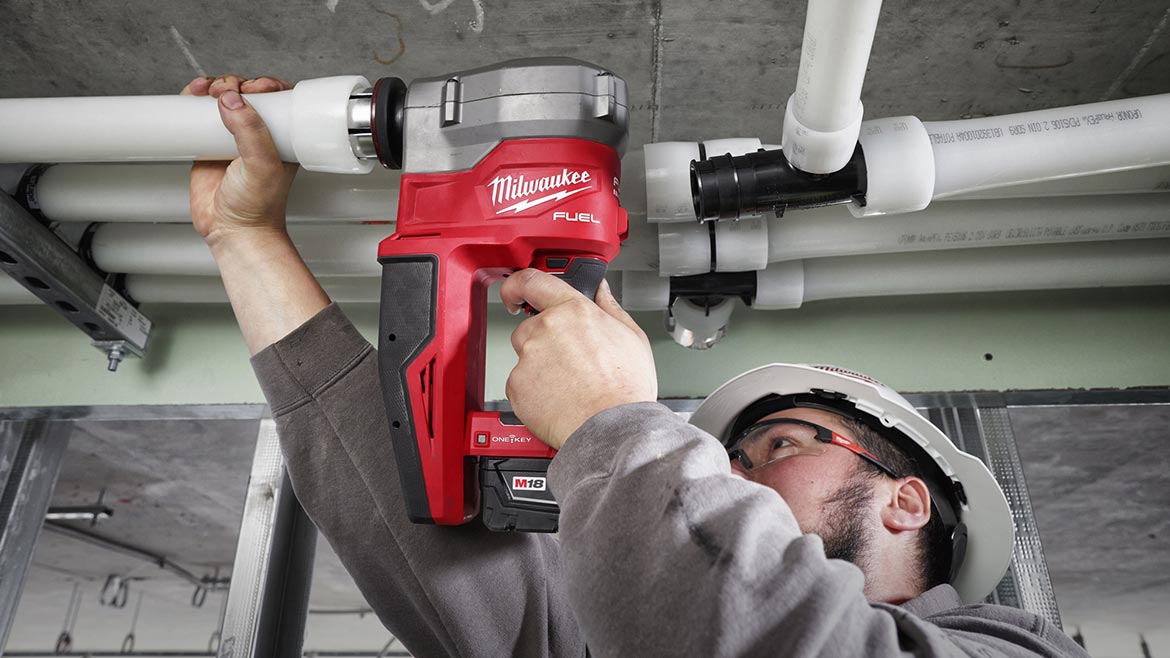 Top tools of the trade
Alec Dietzel, manager of product marketing for Milwaukee Tool, notes the most popular selling tools depend on the individual plumber or HVAC technician.
"What I mean by that is the type of work the plumber is doing," he says. "In the installation phase, contractors continue to convert from traditional technologies to Milwaukee Force Logic Press Tools. These tools deliver a safe, consistent way to join pipe up to 50% faster than other connection methods, like sweating and soldering, and this enables plumbers to tackle more jobs in less time.
"On the sewer and drain maintenance side, service plumbers and drain cleaners are using Milwaukee's M18 Modular Pipeline Inspection Cameras to diagnose a system and be able to show their customer the work that needs to be completed," he continues. "The M18 500GB control hub allows contractors to store high definition video and images in one organized location, and the M18 wireless monitor allows them to trim recordings that can be shared via USB or a mobile device. Utilizing the wireless monitor or the Milwaukee pipeline inspection app on their mobile device, they can build and edit reports, eliminating time lost from them going back to the office, and overall this tremendously streamlines the process for the contractor."
HVAC techs are also opting for efficiency by transitioning away from torch to faster air conditioning and refrigeration line connection methods, such as press, Dietzel adds. "Flame-free and nitrogen-free connections eliminate the need to nitrogen purge ACR lines, increasing setup time, removes consumables from the equation and provides peace of mind in quality connections."
Shelby Gerl, drain cleaning product manager for RIDGID, agrees, noting that plumbers are being asked to do more in less time as well as expand their service offerings to accommodate more of their customers' needs.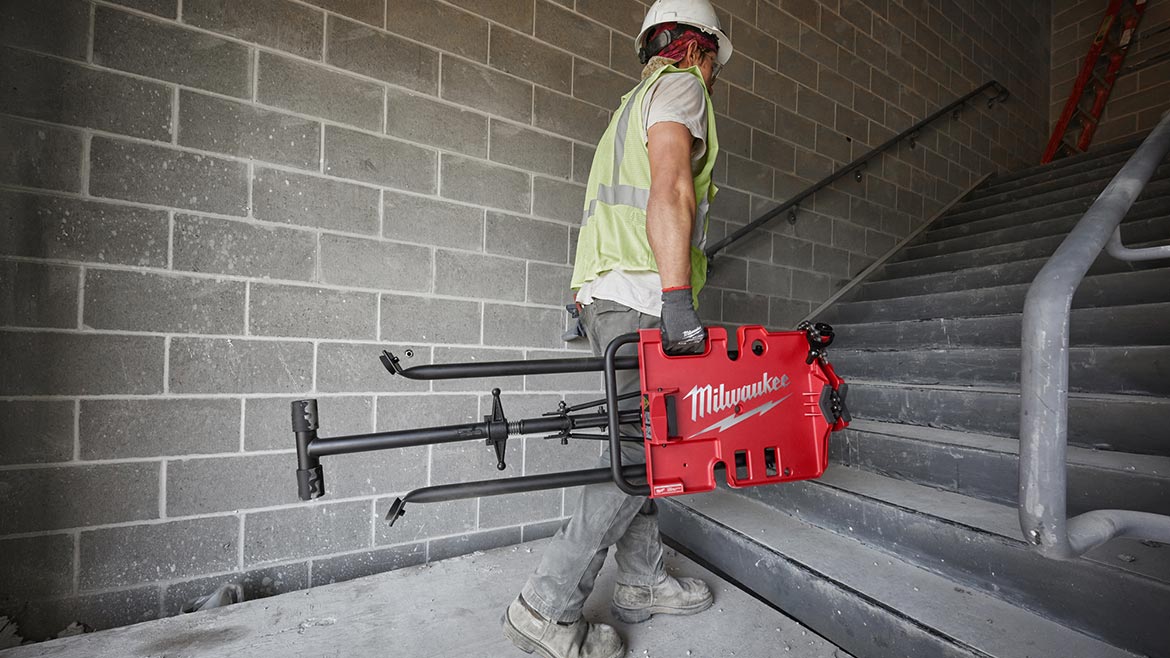 "Once a customer finds a plumber they can trust, they want that person to do it all — from installing a sink to unclogging a main drain line running into the house," she says. "It's why we've seen a lot of plumbers expand their service arsenal to include several models of our FlexShaft drain cleaning machines. These machines open new revenue streams for plumbers and help them grow their businesses."
RIDGID's FlexShaft machines utilize high speed to scour pipe walls rather than torque. RIDGID currently offers three different model options. The K9-102 and K9-204 are designed for 1 1/4-inch to 4-inch pipes and are powered by a cordless drill attached to a driveshaft. The K9-306 is for 3-inch to 6-inch pipes and powered by an internal 1.5 HP motor equipped with an I-Clutch for additional cable protection. FlexShaft machines also allow for inspection cameras to remain in-pipe throughout the entire drain cleaning process for maximum efficiency and to deliver superior job site productivity.
On the HVAC side, techs tend to deal with a variety of installation types and needs across a job site, and therefore need many different tools at their disposal, Gerl notes.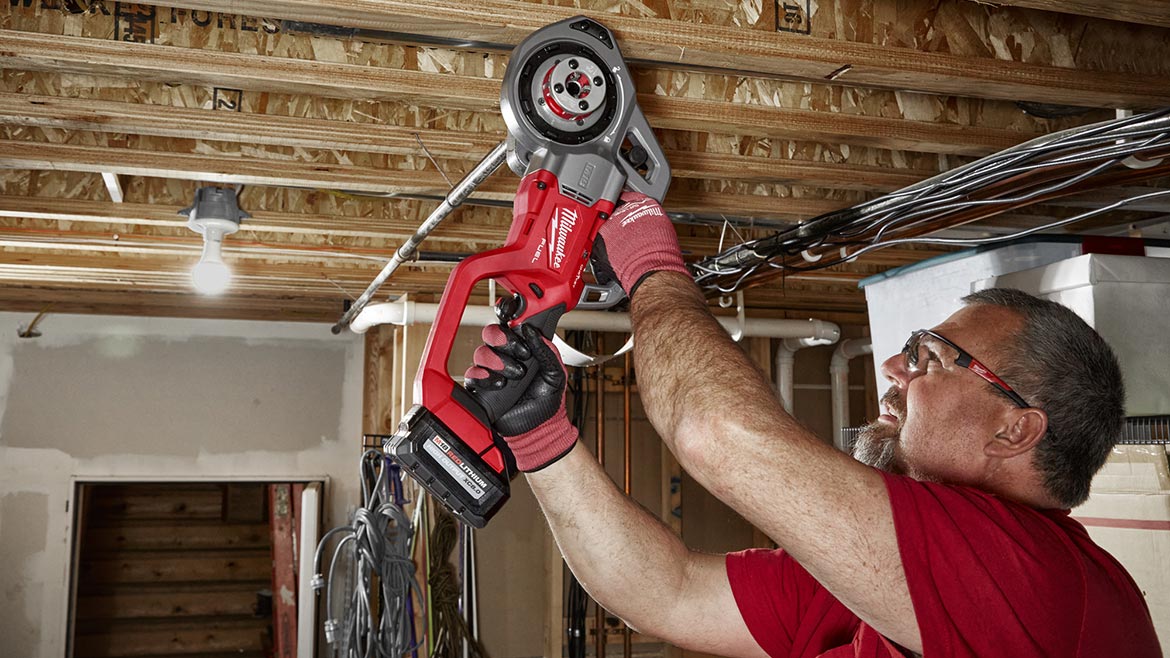 "Keeping this tool load manageable is important when it comes to delivering increased speed and productivity," she says. "There's no room for equipment that doesn't make life easier. It's why we've seen a lot of HVAC folks turn to RIDGID press tools. Press fittings offer as strong a fit and seal as a traditional solder fitting. A quick mark of the fitting provides accuracy to ensure the pipe is in place. With the press of a button, the hydraulic jaw does the work and stops when the seal is made. The entire process takes seconds.
"In addition to making connections easier, press tools also reduce planning time and clean-up," Gerl adds. "There's less equipment to track because pressing eliminates the need for soldering gases, flux or solder. There's also no need to clean oxidation off the tube or clean off excessive solder after the connection is complete. A quick ream of the tubing to eliminate burrs and pushing on the fitting until it's fully stopped or at the proper depth is all you need."
For General Pipe Cleaners, the top seller is the Speedrooter 92, a large drain cleaning machine designed for cutting roots in 3 to 10-inch pipes.
"It is the type of machine that contractors want on every drain cleaning truck, and because of the changes I outlined earlier, there have been a lot of drain cleaning trucks outfitted in the last couple of years," Dunbar says. "In addition, the Speedrooter has the reputation of being tough and reliable, a good money maker, safe and easy to use."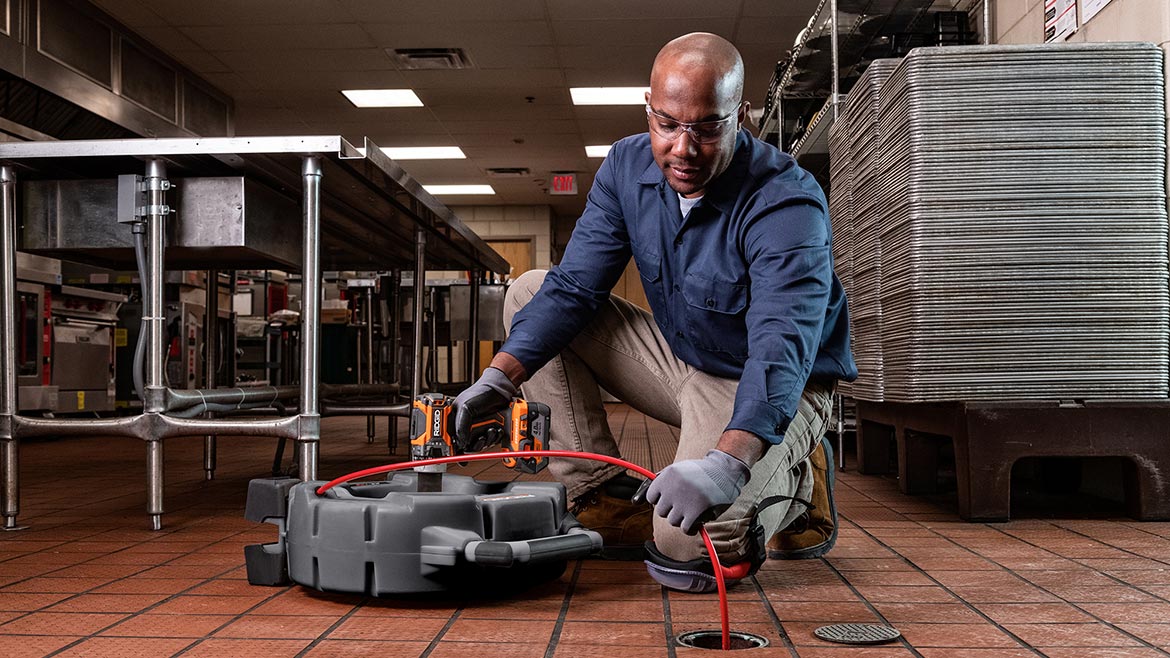 Designing for the pros
Dietzel notes the growing shortage of skilled labor has influenced contractors' need to work more efficiently than ever before.
"They're trying to push their productivity and grow their bottom lines, so they look to innovative solutions that essentially let them do more with less — and do so without compromising safety," he explains. "The three important factors that contribute to productivity-enhancing tools are power, safety and ergonomics. When it comes to getting a job done quickly, plumbers and HVAC techs are looking to pull as much power as possible out of the smallest possible package. Additionally, contractors need solutions that eliminate unnecessary weight and repetitive strain."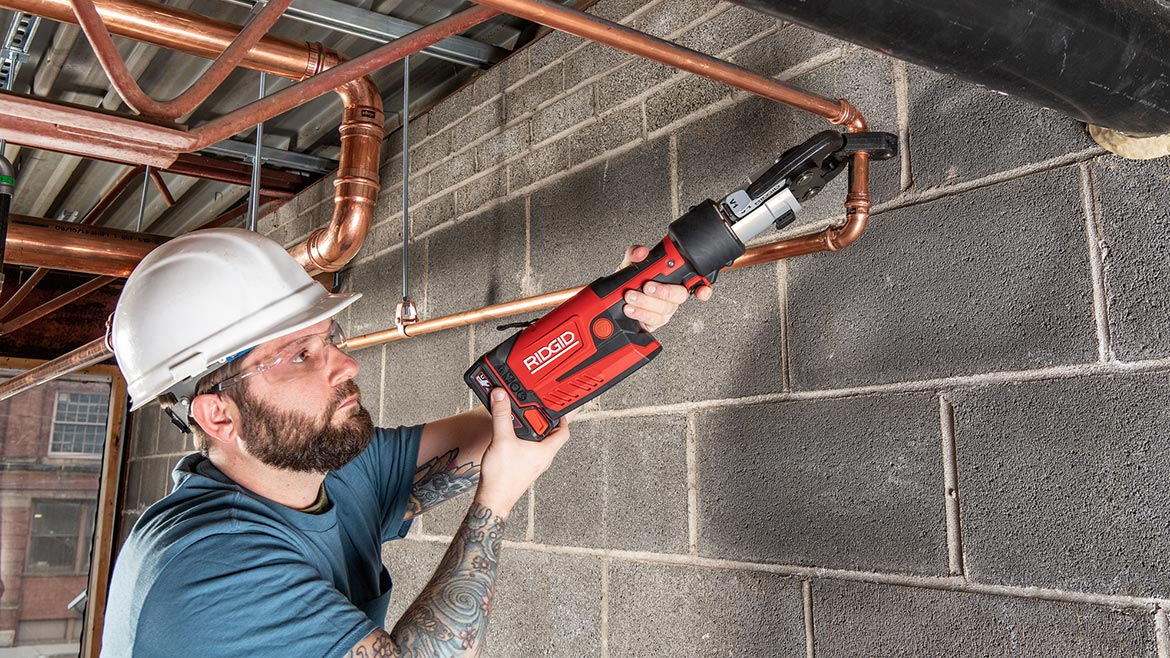 Dietzel points to Milwaukee Tool's M18 FUEL ProPEX Expander with ONE-KEY, which is up to five pounds lighter than other 2-inch capacity expanders, and the M18 FUEL Compact Pipe Threader, which is up to 40% lighter than other cordless models. "When paired with the new Milwaukee forged military-grade aluminum die heads that are up to 50% lighter than traditional die heads, contractors can thread overhead and also maneuver the tool in extremely tight spaces."
Gerl notes that safety plays a big role in tool design, so much so that it's not even a trend, but a constant.
"Tradespeople know that their greatest assets are their own hands and body, so preventing injuries is critical," she says. "From a tool perspective, ergonomic designs can help with this. Ergonomics is the single biggest driver of innovation throughout the RIDGID line, and we constantly look at how we can help professionals get their job done more efficiently and with less stress and wear-and-tear on their bodies. In pipe joining, having to work with tools overhead or in an awkward position can lead to fatigue, so having lightweight, compact — yet rugged — tools is important."
Another important trend, Gerl adds, is keeping job sites clean and containing sewage or other contaminants.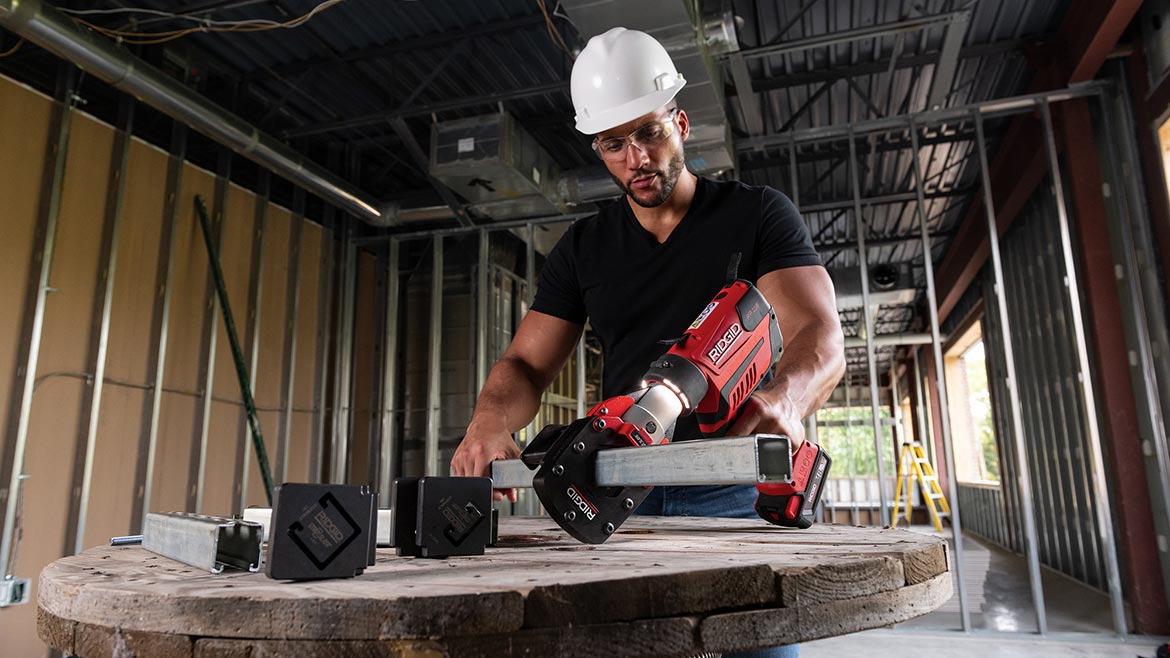 "Let's face it: Plumbing can be a dirty business," she says. "If you're cleaning out a clogged sewer line, it's not pretty. With FlexShaft, we made sure the cables were contained within an enclosed housing. Previously, tradespeople would have to rely on gloves alone to create a barrier against whatever grime was in the line. Not only that, but containing the cables means they're not lying on the customer's floor. The lack of mess translates into cleaner job sites that take less time to clear while keeping customers happier.
"When we're young, we sometimes have an invincible attitude of powering through and getting the job done," Gerl continues. "The long-term cost and wear-and-tear on your body of doing tasks in a way that's not ergonomic may not hurt you when you're 25, but the toll adds up. By the time you're 40, 50 – there's no going back. Professionals are dependent on their bodies for their livelihood, and they want to not only stay healthy for their careers but also for their family. The same holds true in terms of containment and cleanliness. COVID was a major driver here. People across the industry — from customers to plumbers — understand that a cleaner environment is a healthier one. Tradespeople can't take a week off of work if they get sick, and keeping their workspaces and equipment clean goes a long way in staying healthy."
Tool design is also being driven by new motor, battery and connected technology, Gerl points out. "Optimization of new brushless motor technology has made battery powered products feasible for a wide assortment of plumbing and HVAC tasks that previously required the user to be tethered to a power outlet. And lighter, smaller, more efficient motor and battery technology has led to great strides in ergonomics. The smaller-sized tools can incorporate the best practices of ergonomics into the design of a tool, making for a safer work environment for the operator. Lastly, we are building connected technology into our products that allow us to connect with the tool through embedded technology that integrates sensors and processors. It allows the user to monitor the health of the tool, order replacement parts, and schedule service updates or repairs. This maximizes the efficiency of the tools and minimizes downtime."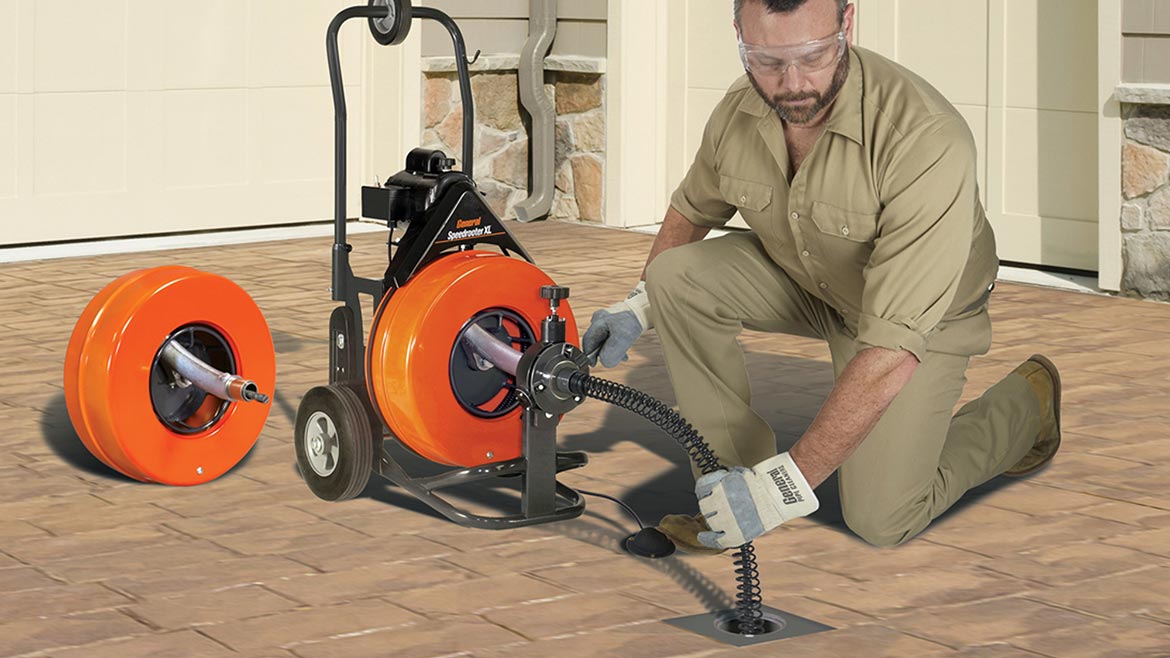 Dunbar notes the most important factors shaping drain cleaning and inspection design are the same as they have always been: Durability, reliability, speed, ease of use and safety.
"The less the machine breaks down, and the quicker a job can be completed, the more money ends up in contractors' hands," he says. "However, technological advancements have radically changed the drain cleaning world over the past 35 years and will continue to do so. High pressure water jetters, video pipe inspection and digital location systems — and now flexible shaft technology have transformed the way contractors do their jobs, taking out much of the 'guesswork' and giving drain cleaners the tools to meet almost any challenge. We see the role of superior technology becoming more and more dominant over the next few years, as improvements in electronics and material sciences push and transform the classic design factors into products that are lighter, faster and safer. In our opinion, we may be entering the 'Golden Age of Drain Cleaning Design!'"
New tools and features on the market
According to Dunbar, the most innovative products entering the drain cleaning world right now tend to fall into two categories: Pipe inspection and location systems and products utilizing flexible shaft technology.
"Since their debut 30 years ago, camera systems have gotten progressively more and more sophisticated and reliable, now offering contractors a dependable and accurate way to inspect most buried and hidden pipes," he says. "They can spot obstructions, out-of-code plumbing, cracks and fissures that allow inflow and infiltration, as well as other damage. Then, after the contractor finds the problem areas, they can pinpoint their location and depth using a digital locator. These locators track radio signals emanating from transmitters positioned behind the camera head, and they are becoming more and more accurate and user-friendly with every passing year. Because they give contractors the ability to find pipe replacement and pipe relining jobs, inspection/location systems can be found on almost every service truck."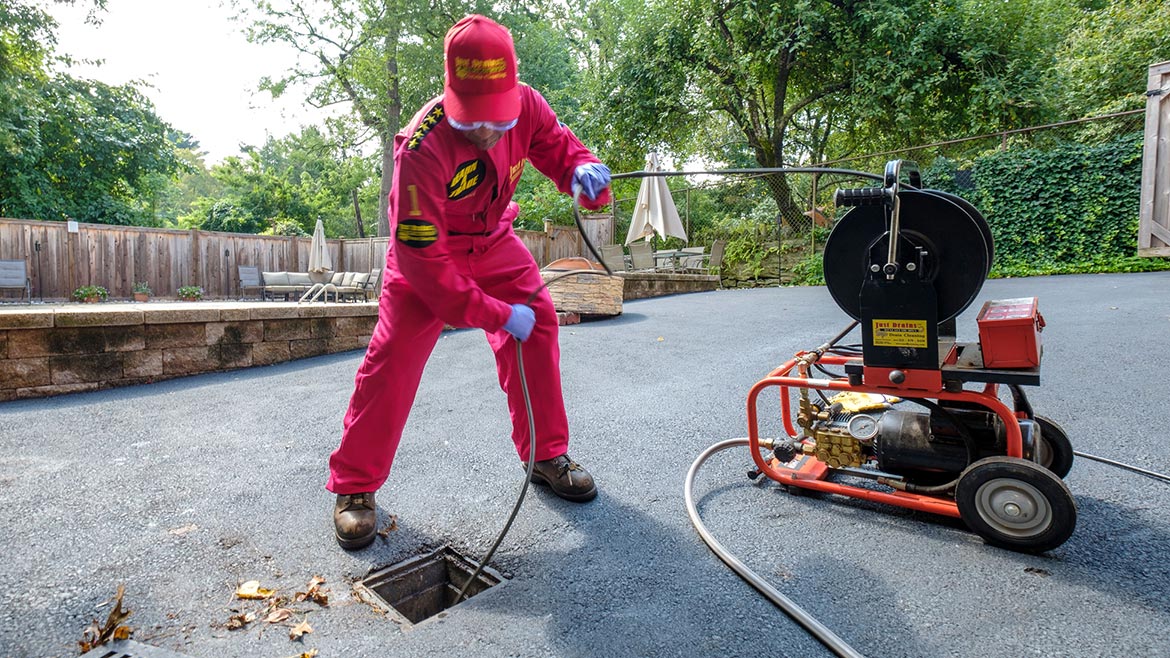 When it comes to flexible shaft products, Dunbar explains these tools utilize an idea that has been around for a long time, which can now be put to work in sewer and drain cleaning because of advancement in material sciences. "For years, woodworkers, artists, dentists, and others used variations of this technology, which uses quickly spinning wire rope cables spinning inside fabric or plastic sheaths to carve, polish, drill and clean. Several years ago, we started to see flexible shaft technology emerge in the margins of the plumbing and drain cleaning world, mostly as milling devices that contractors could use to prepare a pipe for the relining process. Drain cleaning professionals quickly realized that these devices, which can spin cutting tools at 2,000 RPM or more, could cut through roots and other obstructions in a drain. Since then, most of the major drain cleaning machine manufacturers have released tools using flexible shaft technology. Most of these devices can serve multiple functions for the drain cleaning professional, clearing obstructions, removing scale, as well as milling and pipe prep. In addition to their utility, they are lighter than traditional drain cleaning machines, and, because the plastic sheath housing the flexible shaft does not spin, they are far safer. As I said previously, we expect technological improvements in electronics and material sciences to continue to push advancement in both inspection/location equipment as well as flexible shaft devices."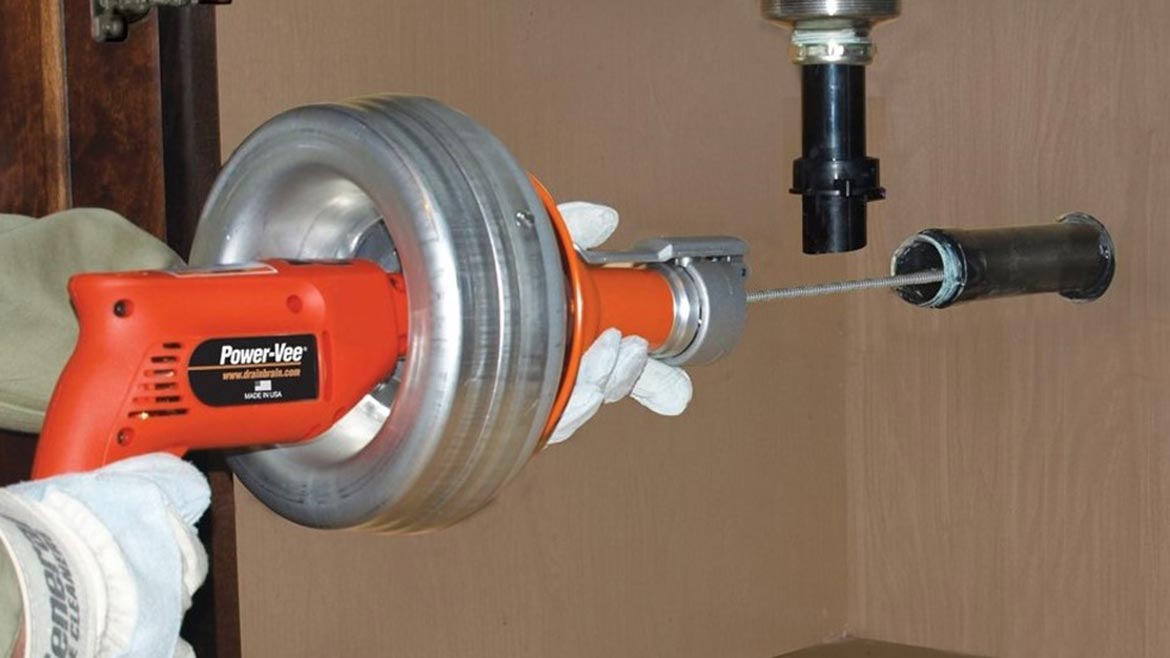 Milwaukee Tool launched two new products earlier this year mean to help relieve plumbing and HVAC technicians' pain points on job sites. One of which was the 6-inch Leveling Tripod Chain Vise.
"Chain vise are critical to the workflow for plumbers and HVAC technicians," Dietzel says. "While contractors have modified their workflows in pursuit of higher productivity, the traditional tripod chain vise design has not fundamentally changed in multiple decades to support their goal. Plumbers and HVAC techs are mobile by nature, and their installation and repairs take them all over the job site — up and down many flights of stairs. Traditional tripod chain vises are awkwardly shaped and hard to carry, not to mention requiring multiple cumbersome steps to set up. The Milwaukee 6-inch Leveling Tripod Chain Vise folds flat with a balanced carry handle for briefcase-style transportation, and features a two-step setup delivering quick and painless setups."
The other product launched was the M12 Stick Transfer Pump, which enables service plumbers to quickly drain debris-filled water from in-ground basins, such as water meter boxes, catch basins or other applications. The product only requires one hand to pump, eliminating repetitive strain associated with hand pumps and frees the second hand to control the outflow and contain the mess.
Gerl notes that this year, RIDGID continues to look for new opportunities related to connectivity and ergonomics. "The RIDGID Link mobile platform interfaces with RIDGID tools equipped with Bluetooth technology to provide real-time tool data to work faster and smarter. Integrating enhanced ergonomics into tools also continues to play a key role in new tool development. Whether it's finding ways to make a tool lighter or minimize tool usage body strain, ergonomics will remain a priority this year."