When Robert Broccolo, Jr., owner of Professional Drain Services of Southern New England, answers any service call, he always has one of his company's 11 video inspection cameras with him — ready to diagnose the issue at hand.
"Every job I do, I use the camera. It eliminates any kind of guessing," says Broccolo, whose company works primarily in Rhode Island and southeastern Connecticut. "When someone is paying me to come to their home or business, I want to give them the best quality service."
Broccolo first used a camera early in his career while working for a local company.
"It was to inspect a 150-foot line of old cast iron pipe at a Newport mansion," he says. "I didn't even know you could put a camera in the line to diagnose at that point."
Confirming what he suspected, the camera revealed the pipe was choked with roots, an issue that had not been fixed by the homeowner's regular snaking of the pipe. With the problem diagnosed, the crew replaced the pipe.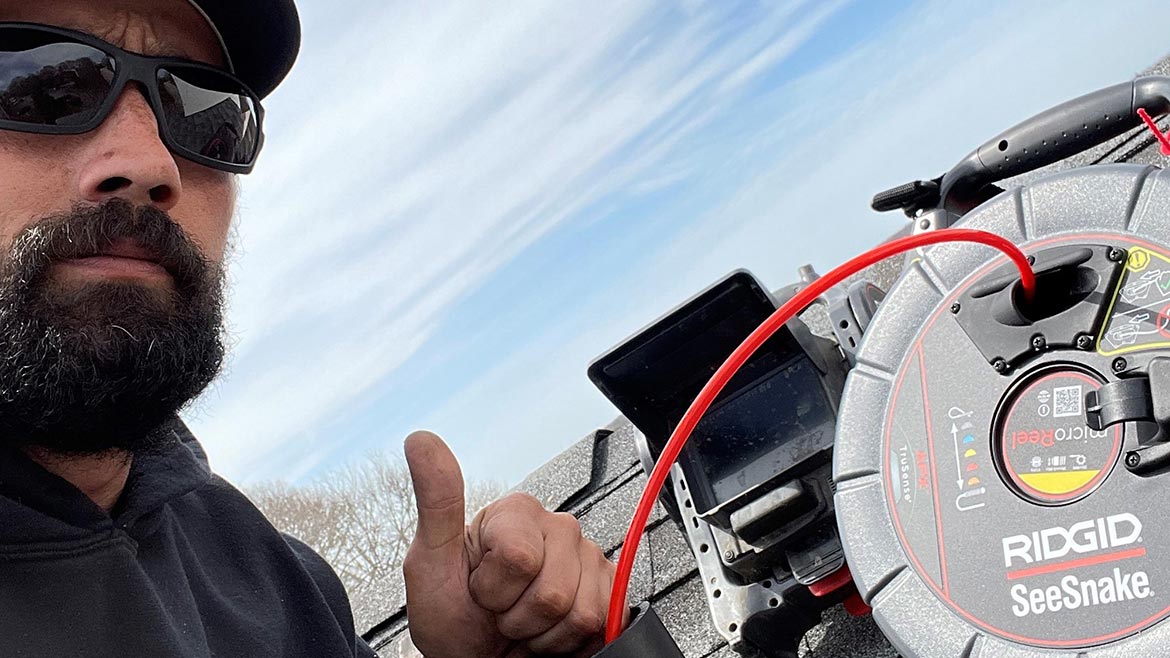 "It's a great unit that you can throw on your shoulder and go. With 100 feet of cable, it does just about everything I'm going to need in a day," Broccolo says. "They added TruSense features to the camera, and having that extra information is key. You can see the pitch in the pipe, added brightness is there now, and so is auto-flip keeping the image always upright."
The microReel APX is the most recent camera reel from RIDGID to offer TruSense technology, helping drain professionals better pinpoint problem areas in-pipe. With TruSense, advanced sensors on the camera head convey information about the in-pipe environment, while the HDR image sensor expands the camera's dynamic range, allowing a greater ratio of bright and dark areas to be displayed simultaneously without reducing visibility. This delivers clarity and detail with fewer blown-out and too-dark areas.
Video inspection has recently helped Broccolo's team tackle residential water back-ups, home inspections and clog-clearing at schools.
A homeowner requested a video inspection to better understand why water kept backing up into his home even after the line was snaked. The RIDGID SeeSnake Mini Reel with TruSense camera revealed a bigger problem that impacted the homeowner's neighbors, too. Four different homes had their sewer and storm drain lines tied together, which caused flooding in each house. Instead of simply snaking the line for a temporary fix, the camera helped them get to the root issue and devise a long-term solution. Broccolo dug up a small access point to disconnect the pipe from the other lines and shot in pipeliner to seal off the pipe.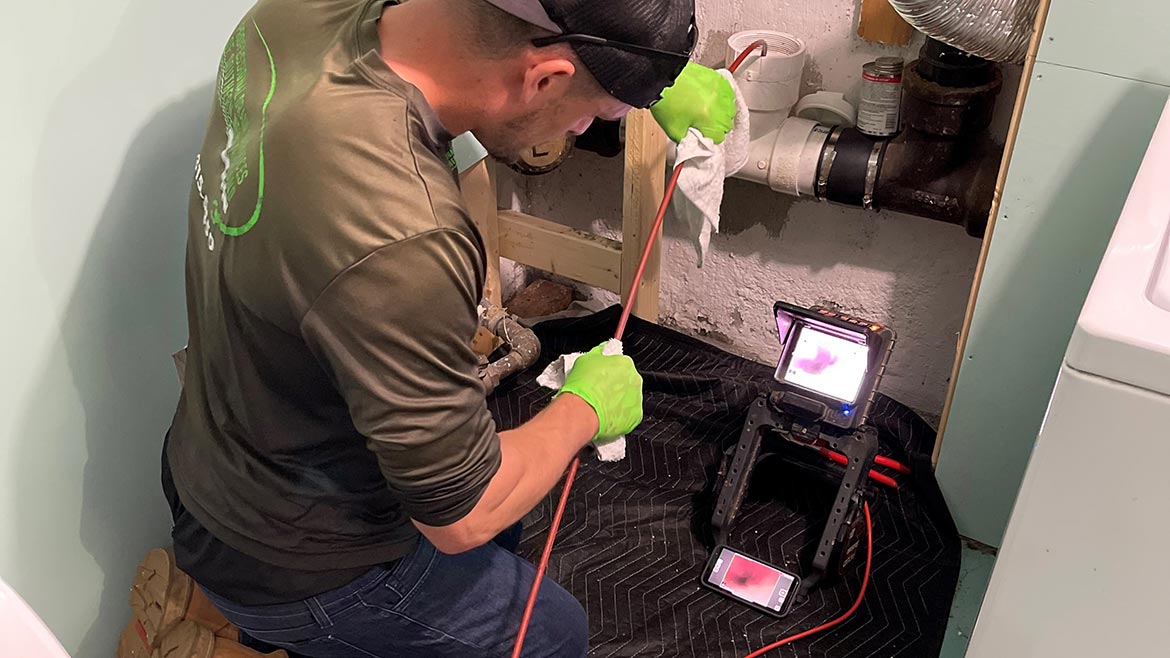 For another homeowner whose basement kept filling with water, Broccolo used his RIDGID SeeSnake Compact M40 Camera System with TruSense and clearly saw the problem — there was pipe missing in multiple places, allowing water to back up. Other companies had tried to fix the problem, but Professional Drain Services was the first to use a camera to see what they were facing before they began work. To fix the issue, Broccolo, with help from his company foreman and cousin, John Broccolo, and pipe lining specialist Kevin Olenik filled the holes by shooting a 4-inch pipeliner into the line.
The company is repeatedly called to clear blockages at schools. Having a camera in the line while he is clearing it with RIDGID FlexShaft Drain Cleaning Machines provides peace of mind to school leaders.
"You're not just telling them, you're showing them," he says. "They know they are investing their money well when they not only can see the problem but also how it was corrected."
This visual insight and assurance has been beneficial for potential homebuyers, too.
"Most home inspections don't use cameras, not checking to see if that sewer line is shot, leaking and causing issues. The camera gives you that information," Broccolo says. "It's better to know about those things before you buy the home so you know what you're investing in and also have negotiating power."
At the end of the day, it comes down to using cameras to provide quality service to his clients.
"I want to get it done right. With cameras, we all see the problem, we get it fixed and done right the first time," Broccolo says. "I only want clients calling me again because they have a new problem, not because we need to correct something."