Though radiant heating may seem like a relatively new innovation, it actually has ties back to ancient Rome. Even famous architect Frank Lloyd Wright used radiant heat in his designs in the 1930s, though the technology didn't become more commonplace until decades later. Today, many consumers understand the benefits of radiant heat, and are finding ways to incorporate the comfort into their everyday lives.
"Moving heat with water is a proven technology that increases thermal comfort and decreases energy consumption," says George Youngvorst, technical project specialist with REHAU's building solutions division. "In the case of hydronic radiant heating, water is used to carry heat through circuits of PEX piping to spaces throughout a residential or commercial building, typically activating the floor as a warm surface that transfers the heat. Hydronic heating offers an alternative to less efficient, 100% forced-air systems. Unlike air, water holds heat longer and provides a more even temperature throughout a space."
Radiant heating is worth considering for both remodeling and new construction projects, Youngvorst adds.
"Traditionally, radiant (often electric) has been used by homebuilders to add an extra element of luxury to hard surfaces in rooms such as bathrooms and kitchens," he says. "In today's energy-conscious building environment, we are further optimizing thermal comfort by incorporating radiant surfaces into all building spaces. Floor applications account for more than 90% of radiant installations, but radiant heating systems can be installed in the ceiling or walls, so don't rule out their versatility."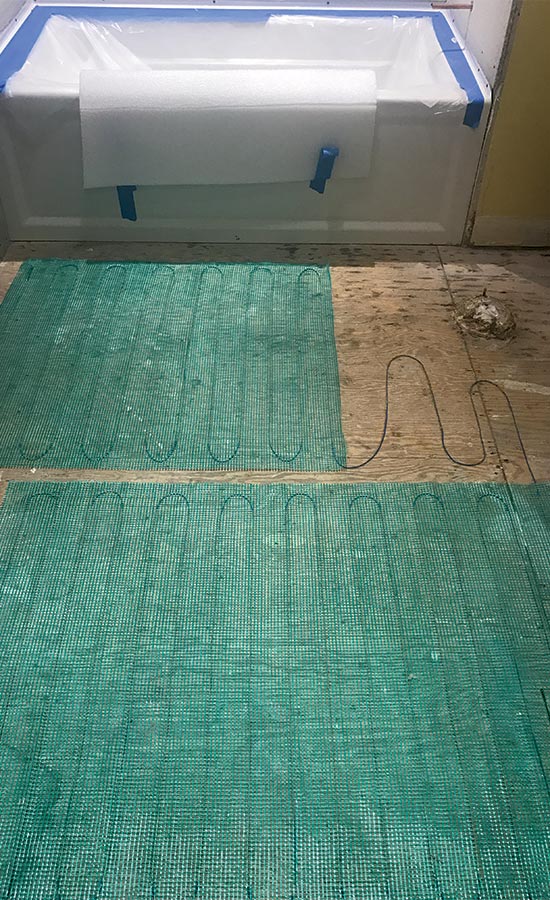 Spot heating
Partial home radiant, or radiant "spot" heating, is becoming more popular as homeowners experience the comfort of radiant heating systems and are trying it out in specific areas of their homes, according to Justin Churchill, residential segment manager, Uponor North America.
"Some of the more common areas for partial home radiant include basements and master bathrooms where homeowners are looking for the comfort of a warm floor," he says. "This is especially popular in northern climates where families are tired of their basements being uninhabitable during the winter months."
Master bathrooms and basements are by far the most popular areas to add radiant heating, but Churchill notes he has seen some creative applications over the years. 
"Some contractors have used Wirsbo hePEX pipe in combination with some of our floor application products, such as Quik Trak, to warm kitchen counter tops, heat shower walls and to prevent bathroom mirrors from fogging up."
According to Julia Billen, owner and president of WarmlyYours Radiant Heating, the company saw an 18.7% increase in sales of its most popular line of spot heating mats in 2020.
"Because you're only targeting a section of the floor, spot heating requires less material costs and less operational costs than traditional full-coverage heating without having to sacrifice comfort," Billen says. "This cost savings has certainly increased the popularity of spot heating with homeowners.
"Most of our bathroom routines in the morning are fairly consistent (even if they don't feel like it when you're in a rush), which helps make the areas of the floor that you'll use more predictable," she continues. "Often we'll find homeowners installing spot heating in front of bathroom sinks where they'll spend time getting ready." 
Basically any room where homeowners will generally be barefoot or sitting directly in contact with the floor is a good candidate for radiant, notes Tracy Hall, national sales manager for SunTouch, a Watts brand. 
"Separate temperature control (and heating) of specific rooms makes great sense, particularly between a master bedroom and master bathroom because of the common preference for different temperatures for those rooms — usually a warm bathroom and a cool bedroom," she says. "The No. 1 area is the master bathroom. Next are other bathrooms in the home. Kitchens, laundry/mud rooms, entryways and basements are commonly areas considered to be next most popular."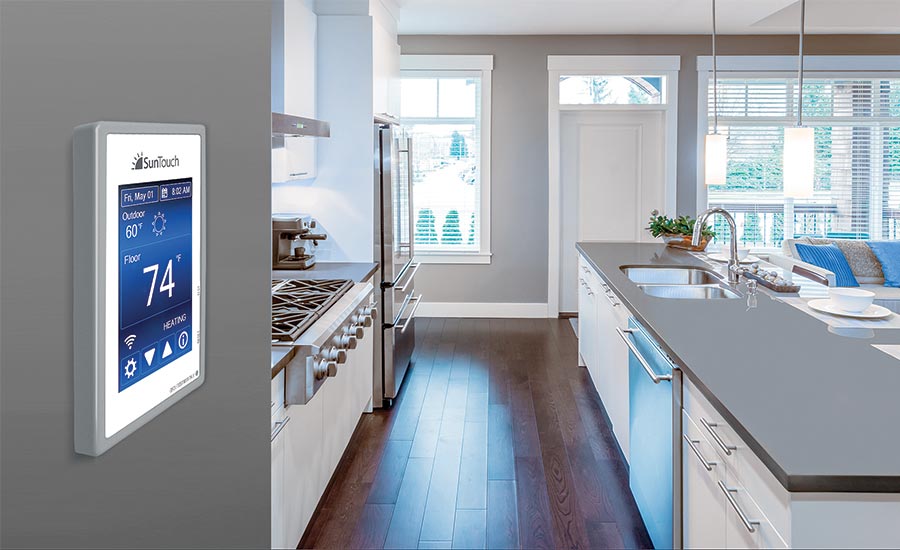 Family rooms, office spaces and gaming or entertainment areas are becoming more popular for radiant floor heating, mostly due to more professionals spending more time at home, Hall explains. "Floor-warming adds a tremendous amount of comfort and essentially becomes the first stage of heating, with a furnace or boiler coming on only when it's really cold outside. Some people also appreciate the ability to warm floors (perhaps with electric radiant) during the shoulder seasons, spring and fall, before full heat is needed." 
Max Rohr, education and training manager for Caleffi Hydronic Solutions, agrees, saying bathrooms, kitchens and entryways are great spots for radiant heating.
"It's becoming more popular because more people are working from home and they are fed up with that uncomfortably cold bathroom floor," he says. "A room that might have been uncomfortable on nights and weekends is now uncomfortable on workdays, too."
Cost concerns
Because of the nature of radiant floor heating, many consumers may be hesitant to pull the trigger on an add-on retrofit application. However, the cost will vary depending on the extent of the remodel, Youngvorst explains.
"Radiant can be installed above or below the floor structure," he says. "In large rooms or entire floors of a building, an overpour or dry-panel application might be most appropriate. If you don't want to disturb existing flooring, you can also add radiant using a variety of joist space dry-panels below the sub-floor."
Keep in mind, Youngvorst points out, that homeowners adding radiant heating to a single space (such as a bathroom, kitchen or entryway) which also needs to add a heat source, such as a boiler, could incur added initial installation costs.
"If you already have a water-based heat source, radiant is more cost competitive," he notes. "One cost offset is that running distribution lines for hydronic systems is often much simpler than planning for duct work, and can prove less expensive. A radiant specialist can put together a quick estimate to review all the options at the beginning of the project."
Churchill notes that cost can vary widely, depending on the existing structure. Uponor offers several installation products to help make radiant retrofit opportunities possibile, including Quik Trak, Fast Trak and Joist Trak. 
Churchill explains it is important for contractors to convey to homeowners that radiant is a long-term investment. 
"Due to the energy efficiency that radiant provides, it can offer lower energy bills that have the potential to pay for the system over 10 years or so," he explains. "Additionally, because radiant systems circulate warm water under floors instead of blowing hot air through ductwork, radiant offers improved indoor air quality without the circulation of viruses or allergens around the home. Looking at radiant for its unique energy efficiencies, IEQ and comfort, which forced-air systems just can't provide, are the three key areas to concentrate on when addressing homeowners' concerns about cost."
If a homeowner is already planning on replacing their floor, a radiant heating system installation will not add much to project costs beyond the actual product costs and hiring an electrician to perform the final electrical connections, Billen notes. And there is also continued savings because a spot heating system will cost less to operate. "For example, even if you installed our largest spot heating mat (a 3-foot by 10-foot mat) in an average bathroom and ran it for 8 hours a day, it would only cost 19 cents a day compared to 50 cents for a full coverage system."
Electric radiant is very cost effective for retrofit because of the thinness of the product as opposed to hydronic tubing, Hall notes.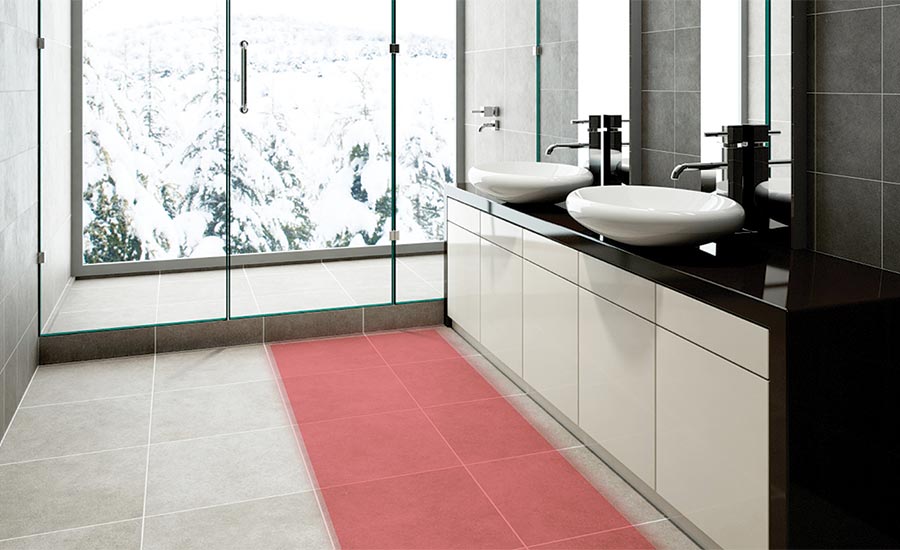 "Cost can also be a differentiating factor," Hall says. "Running an electric floor heating system is usually about $1 to $2 a month per 10 square feet, based on run time and electrical costs. So a 50-square-foot heated area in a 100-square-foot bathroom (total area minus built-ins) is usually $5 to $10 a month on the utility bill — less than a cup of Starbucks coffee every morning!"
When it comes to easing customers' cost concerns, Hall wishes contractors could walk prospective customers through master bathrooms with electric floor radiant — with their shoes and socks off.
"Call it tactile persuasion," she says. "That, alone, is the most convincing proof of comfort we could hope for. Occasionally, we get to see that level of connection, though not often enough. It also helps to give customers the initial cost of materials or an installed cost, and then the running costs for electricity. Most consumers think the cost of a system is about double what it really costs and substantially less to operate than they perceive."
However, cost is subjective, according to Rohr.
"People who are accustomed to radiant heating are loath to give it up," he notes. "A great way to save on installation costs may be to couple it with a flooring change or bathroom remodel. In some cases, you can add radiant below the floor from a crawlspace or an unfinished basement."
Rohr agrees that working displays are excellent motivators. 
"If you can have a homeowner stand on cold concrete for a minute and then move to a warm floor demo, the comfort lightbulb comes on," he says. 
Overcoming installation issues
Retrofitting an existing space to accommodate radiant floor heating is not without its challenges. According to Youngvorst, the largest challenge, not only for contractors, but the industry at large, is knowledge. 
"There are some topics that should be addressed in the early phases of traditional HVAC design planning activities that are often pushed off until later," he says. "For example, is there an existing floor and other constraints you need to work around? Floor coverings are one thing we see a lot of questions about. Hydronic radiant systems can be designed around most typical floor coverings. That said, tile and stone work best over a radiant heating system. A wood, laminate or vinyl floor might have surface temperature limitations based upon the manufacturer's recommendations and the methods used in securing the flooring. While radiant will work with carpet or rubber flooring, these surfaces restrict the transfer of heat the most, potentially impacting heat output. 
"In cases where the entire slab is not being replaced (or in many residential applications where joists and a wooden subfloor are used), contractors can use dry-panel systems with snap-in channels for hydronic piping to create a radiant surface," Youngvorst adds. "These low-mass systems will provide the same comfort as a traditional radiant system embedded in concrete, while allowing a quicker response time." 
Additionally, working with a radiant distributor or manufacturer can help a contractor evaluate the project and identify issues up-front, Youngvorst notes. 
"Buildings operate most efficiently when we incorporate HVAC holistically into the building design, and hydronic radiant systems are well-positioned to work with other building systems to provide a comfortable and healthy indoor environment," he says. 
"Adding radiant floors to an existing home that wasn't designed with radiant in mind can be a challenge," Churchill adds. "It's important to ensure the contractor knows radiant system design well enough to design a system that will function properly and give the customer the desired outcome. When a radiant system does not have a proper design, it's nearly impossible to fix the installation after it's in the home."
Churchill recommends that contractors ensure a proper system design, then choose the installation technique that best suits the project.
"Joist heating, radiant walls and radiant ceilings can provide the same benefit of radiant floors without having to remove existing floor coverings or modifying floor height," he explains. "Like radiant floors, radiant walls and radiant ceilings radiate heat throughout the space heating objects and floor coverings."
Though radiant heat is possible with virtually any floor, different floor types — such as wood versus tile or concrete — require different approaches and surface preparations, Hall explains.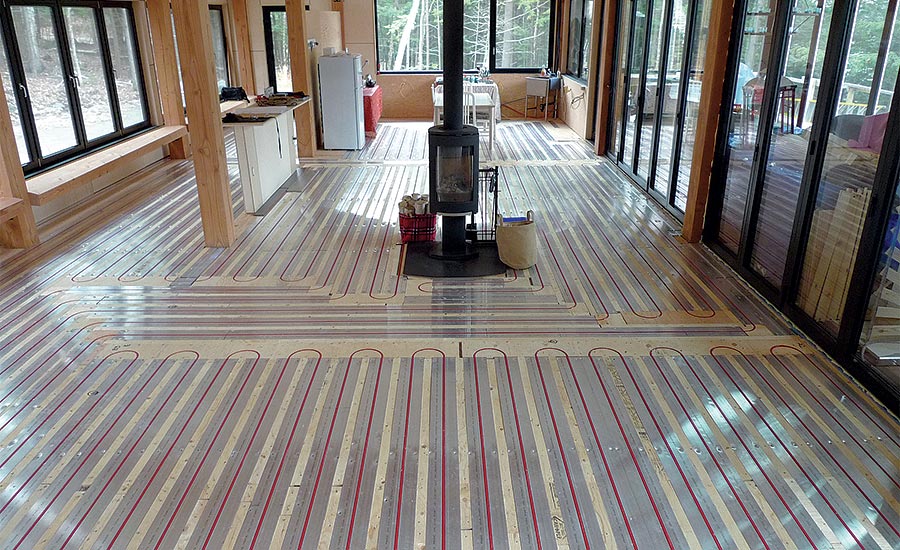 "We have numerous products to heat a floor, and can heat a number of different flooring surface materials," she says. "Some flooring surface manufacturers have temperature limits on their products, so we have a temperature limiting feature in our programmable thermostats. Some floor preparations work better using a self-leveling thinset versus a troweled thinset/mortar."
Billen notes that sometimes homeowners will not want full coverage, but will want to heat more than one spot in a room.
"This happens most commonly in larger bathrooms where, for example, they might want to heat three different areas: The area in front of a double vanity, the area in front of the shower and the area in front of a toilet," she explains. "Situations like these will require multiple electric heating mats, which will require multiple electrical connections which can get complicated. 
"There's essentially two different ways for a contractor to handle this — first, you can talk to the client and the radiant heating provider and discuss redesigning the system for a single cut-and-roll heating roll," Billen continues. "This would greatly reduce the number of electrical connections (cutting it down to one) and could be even more cost effective in some situations. Or, if there are to be three or more mats involved, you can install a junction box at the base of the wall, beneath the location of the thermostat. Then, you can perform all of your electrical connections in the junction box and simply run a single set of wires up to the thermostat to control the system." 
Rohr notes wiring can be limiting during radiant renovations. 
"Electric mat systems may need more power than was originally designed for the room," he explains. "Thermostats should also be added to prevent overheating. Contractors should add drywall repairs and paint to their bids. Take that task off the homeowners' plates and sub it out yourself.