For decades, Janet Armstrong and Lloyd Davies have lived and breathed the sustainable lifestyle. Their way of life has ties to the example set by Janet's father, who built the first solar house in Vancouver, British Columbia, Canada, way back in 1978.
Armstrong and Davies lived in their first home in Vernon for 35 years, making many energy-conscious improvements as time passed. After retiring, they wanted a home that required less maintenance and offered an even smaller carbon footprint.
"We explored moving, but we love our street and our neighbors, so we brainstormed," Davies says. "Build a carriage house on the same property? No, too small. Tear down the old house and build new? Too much waste. We settled on moving the old house over, subdividing our lot and building a new house next door."
The couple wanted the 2,600 square-foot home to blend in with others in the older neighborhood while being supremely energy efficient and sustainable. The craftsman-style residence includes an in-law suite, greenhouse and wrap-around deck.
Rainwater from the standing-seam roof is used to water vegetable gardens and a 35-panel, 10.85 kW solar array provided 103% of the home's total energy needs last year, making it a net-zero residence. But a photovoltaic solar array, installed by Roost Solar, is just the beginning of its eco-friendly amenities.
---
"This home is a reflection of who we are," Davies says. "We want to use it as a demonstration of what's possible with modern building materials and techniques. Our hope is that people take something away and apply it to their own lives, ultimately raising the bar for sustainable living."
---
Since the home was completed in mid-2019, the couple has hosted more than 250 tours, including individuals, colleges, local organizations, etc. The mayor of Vernon has even visited the home, to observe the highest level of building Step Code that Canadian provinces are currently considering.
"Visits have been limited during the pandemic," Davies explains, "but we're looking forward to deeper involvement once restrictions are lifted."
Tight construction
Armstrong and Davies trusted Stonebridge Net Zero Construction with their dream over the 16-month construction period. The company's owner, Albert VanEe, has been in the construction industry for 45 years, spending six of those years building homes in Japan.
"My business partner and I returned to Canada when nearby Kelowna suffered a devastating fire," VanEe says. "We came back to build houses for people who were burned out of their homes. During our time in Japan, we learned a great deal about the Japanese aesthetic and making every square inch of a house count. This was a tremendous advantage at Armstrong and Davies' house."
The home was to be extremely comfortable, functional and efficient, while also providing performance feedback through its control system for curious minds.
Hardie Plank fiber cement siding is used on the home's exterior, along with a standing seam metal roof. Exterior walls are double thickness with a half-inch gap between studs to minimize thermal bridging. Blown-in cellulose insulation fills the stud bays and all wall penetrations were sealed for an airtight shell. On the outside of the plywood sheathing, Roxsul Comfort Board insulation was applied, bringing the exterior walls to roughly R-38.
1 / 3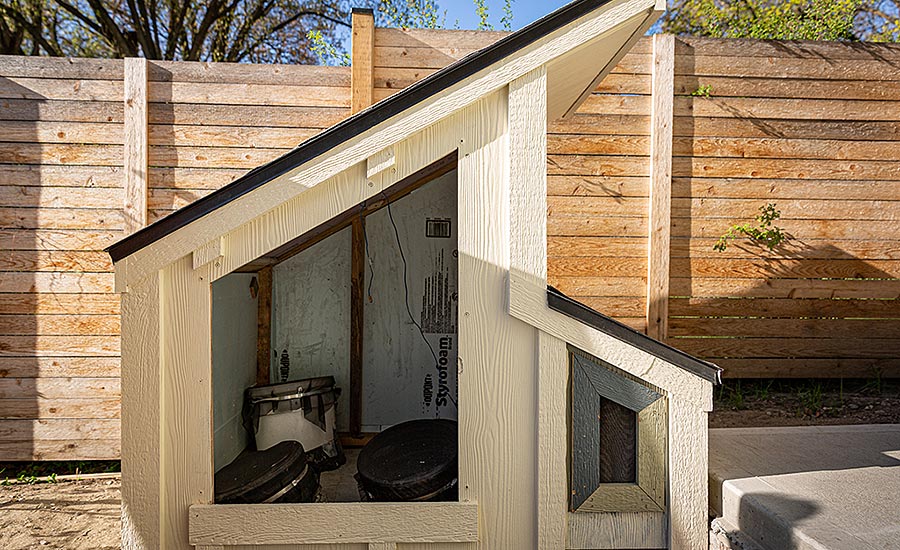 The earth tubes terminate in a small, open-air structure in the backyard.
2 / 3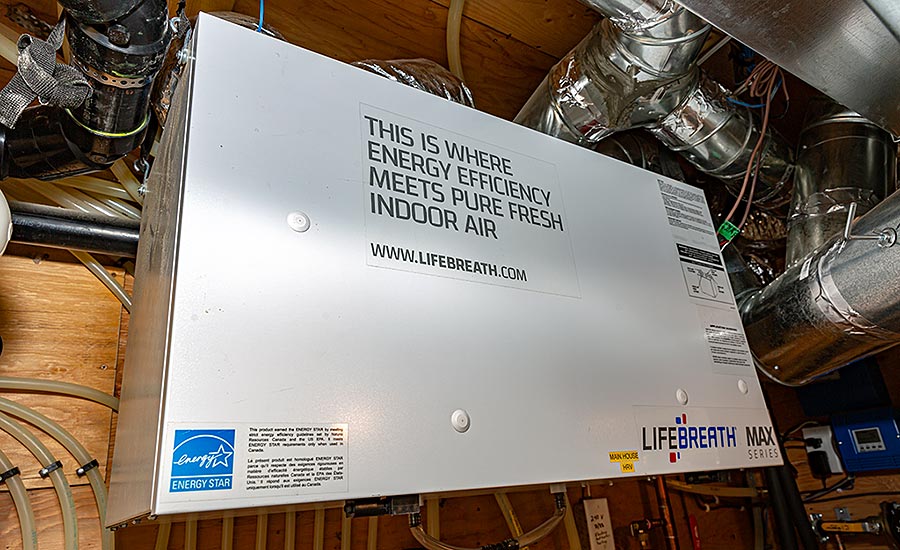 The home's HRV is tied to the earth tube system.
3 / 3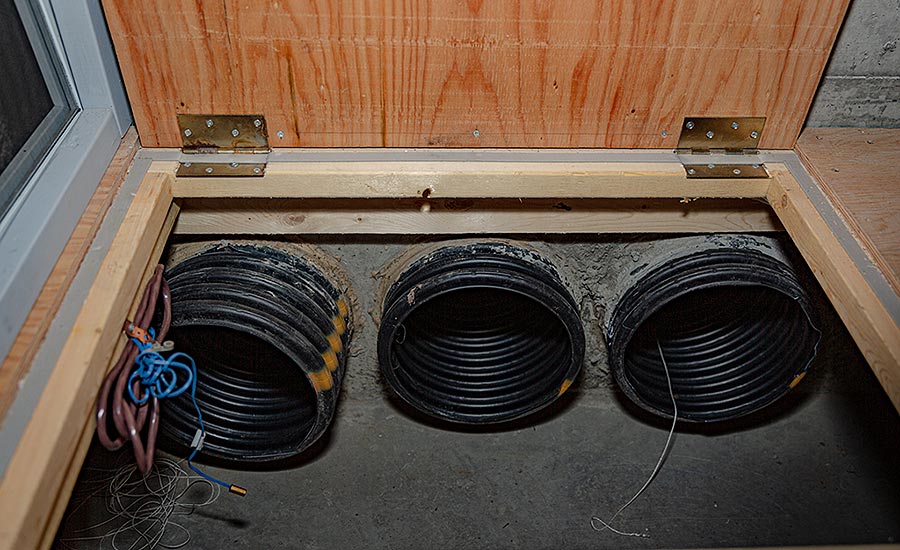 The indoor termination of the earth tubes, providing the only source of air conditioning.
❮
❯
The same attention to detail was applied to the foundation and slab. More than six inches of Styrofoam insulation paired with a double vapor barrier are used under the home. Two-inch dense foam was used on the inside of the footings to isolate the slab. In the attic, an R-60 layer of cellulose insulation was blown in. All exterior doors and windows are triple pane, and were supplied by Innotech Windows + Doors, a manufacturer in British Columbia.
The ultra-tight construction provides a blower-door test rating of 0.59 air changes per hour (ACH). A similar home built to minimum local standards would typically have a rating of about 3.5 ACH.
Because a home needs fresh air infiltration to maintain a healthy living environment, the house has a fresh air system that includes a heat recovery ventilator (HRV) tied to a series of four "earth tubes." These 10-inch diameter, high-density polyethylene tubes are buried between seven and nine feet deep along the foundation of the home. The soil temperature in the area remains at roughly 10° C, preconditioning fresh air in the winter. This system, along with the home's greywater recycling system, was designed by Trevor Butler, P.Eng., at Archineers Consulting in Kelowna.
During the winter, the HRV further warms incoming fresh air by transferring heat from the outgoing air. This fresh air system runs continuously, and also acts as the only source of air conditioning during the summer. Discharge air from the HRV is blown over the outdoor portion of the heat pump, providing yet another source of waste heat utilization.
"An energy study revealed that the home is one of the most energy-efficient residences in Canada,"  Davies says. "We even have a government certificate to prove it."
Total control
A 34,000 Btu Maritime Geothermal air-to-water heat pump supplies hot water to 10 zones of in-floor radiant heat. The basement slab includes hydronic tubing. The home's wooden structure is rated to carry a three-inch slab of concrete on the second and third floors. There, hydronic tubing was fastened on top of the subfloor with concrete poured over.
Everything in the home is controlled by an extensive tekmar control system. The thermostats 553 and 557 control the radiant floor heating temperature and air cooling temperatures. A House Control 406 operates the air-to-water heat pump and regulates the supply water temperature based upon outdoor reset.
Providing power to the thermostats and hydronic zone valves is a Wiring Center 313, and a tekmarNet Gateway 486 provides internet connectivity through a mobile app and website.
Additionally, 35 tekmar sensors are used to measure and monitor building performance. These sensors, which are connected to a data acquisition system, are scattered throughout the home — in the floor, in the walls, outside, etc. — providing realtime feedback.
Uniquely British Columbian
While eccentricities can be found in various places throughout the home, one of its most unique features can be found on the roof. Here, a 300-square-foot terrace includes an outdoor shower for year-around use. Invisible to the neighbors, the shower is built with freeze-proof fixtures and has commanding views of Okanagan Lake and the mountains beyond. Davies admits he hasn't showered inside for months.
A cold room is used to store fresh fruits, vegetables and wine. It's brilliantly cooled by 39° F (4° C) discharge air from the home's Rheem hybrid heat pump water heater. The room remains at 37° F (3° C) in the winter and 50° F (10° C) during the summer. A hot room with a large window on the second floor provides passive solar energy on sunny days no matter the season, and warms a small greenhouse. Warm air generated in this room is circulated within the house by the HRV. There is also a passive solar hot water panel inside the hot room that provides preheated water to the water heater.
The home features the first locally-approved greywater diversion system, often called "purple pipe," which reduces the sewage flow by 60% during spring, summer and fall, when the landscape irrigation system runs.
As a final personal touch, the home features some building material from Armstrong's father's original solar house. These include a lovely handcrafted set of kitchen cabinets, handmade doors and several large, twin-seal windows from the old conservatory.
"Lots of hard work and sweat has built a wonderful home," Davies says. "It's warm where it needs to be, cool where it should be and very quiet because of the great windows, doors and insulation. This is our last house. Our costs to live here are very modest. We have no gas or electric bills. Our only expenses are city utilities, house insurance and city taxes. We love it."
Photos courtesy of Watts.