The 2015 AHR Expo claimed the title for the best-attended AHR event ever held in Chicago. Preliminary figures show that more than 61,000 total attendees, including 42,400 visitors, participated in the trade show, held Jan. 26-28 at McCormick Place.
According to Clay Stevens, president of International Exposition Company, five Chicago records were shattered by the 2015 event: total number of registered attendees — 61,990; number of visitors — 42,400; net square footage — more than 480,000; number of exhibiting companies — more than 2,100; and number of international exhibitors — 592.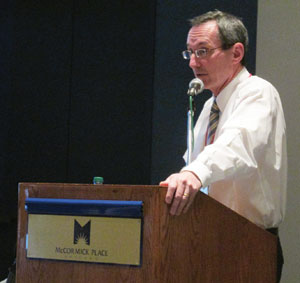 PM columnist John Siegenthaler explains to PM Live! Attendees how to pipe and control thermal storage in hydronic systems. Photo credit: Bob Miodonski/Plumbing & Mechanical
Among the trade show's many educational sessions were six presented by the Radiant Professionals Alliance covering codes and standards updates; radiant cooling and chilled beams in commercial applications; using hydronic systems to get to net zero; radiant and hydronic system comfort and efficiency; integrating hydronics, renewable energy sources and HVAC systems through automation; and how to win the bid when selling premium comfort systems.
An annual staple at the AHR Expo is PM Live!, a one-day seminar where Plumbing & Mechanical columnists John Siegenthalerand Dan Holohaneducated 86 attendees this year on hydronic technology. Siegenthaler discussed how thermal energy storage can improve the performance of hydronic heating and cooling systems. Holohan's Dead Men's Steam School was all about steam heating systems and how to troubleshoot them in older buildings.
Gold sponsors for the PM Live! event were Bradford White Corp. and the RPA. Silver sponsors were Aquatherm, Caleffi, Mestek and PB Heat/Peerless Boilers.
---
  HELPFUL LINKS: