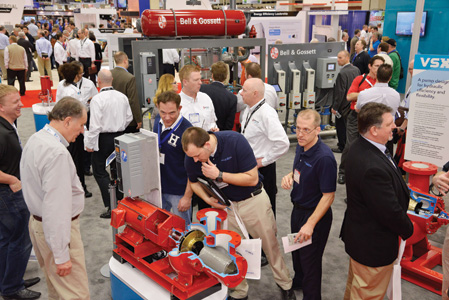 Attendees of the 2013 AHR Expo in Dallas inspect some Bell & Gossett products on the showroom floor. As of press time, AHR Expo organizers say the 2014 event in New York Cityis well-ahead of the attendee and exhibitor pace when the show was in the Big Apple back in 2008.
This go-around of the AHR Expo is about to get a little wetter.
During the 2013 AHR Expo in Dallas, the trade show's leaders distributed a survey to its 55,000 attendees. The results were a tad surprising coming out of the industry's premier HVACR event. Nearly 18% of attendees say they are interested in plumbing products and technologies. The show's organizers and exhibiting companies have responded in earnest to those results.
As of press time, of the nearly 2,000 companies that have secured exhibitor space, several hundred will showcase new plumbing and plumbing-related products during the 2014 AHR Expo Jan. 21-23 at the Javits Center in New York City.
In addition, a significant number of the educational sessions held during AHR Expo will focus on plumbing topics. Clay Stevens, CEO of IEC, which manages the AHR Expo, says this year's show will have 140 new exhibitors. He adds that about 65% of all exhibitors will release never-before-seen products.
Stevens says building automation and controls will be a major focus for companies during the three-day event. Solar also will have a large presence on the show floor.
"Building automation is always a sector of the industry that is doing new things," he says. "Sustainable forms of energy such as solar are gaining traction at the show. Energy is really the watch word."
Contractors and engineers attending AHR Expo will get an up-close look at large-scale HVAC and commercial plumbing products that are out or about to be released into the market. ASHRAE is hosting its 2014 Winter Conference in concert with the AHR Expo and will make skyscraper development a major aspect of the conference.
"New York City is an ocean of tall buildings and that's what ASHRAE has chosen to be the focus of its convention," Stevens says. "The AHR Expo is very much about mechanical systems and large commercial buildings play a major role in the trade show."
Distributors and contractors making their way to AHR Expo will have a great opportunity to be front-and-center with the manufacturers they sell and install.
"It's a great chance to network," Stevens says. "Being at a show with more than 50,000 people is a great opportunity to meet."
Also, Stevens says a healthy amount of exhibitors from the international market will be available for wholesalers to speak with and view their products.
"If they're interested in the international markets or international products, we have more than 300 exhibitors from 35 different countries," he says. "Attendees get a chance to see what is happening in other parts of the world and have a fairly rare opportunity to meet with those international manufacturers."
During the AHR Expo, BNP Media will host a PM Live! event Jan. 22 with experts John Siegenthalerand Dan Holohan. The duo will host a one-day hydronic- and steam-heating seminar and impart their expertise in an interactive forum for participants.
Siegenthaler will host his "Hydronics for High-Efficiency Wood-Fueled Boilers" seminar that discusses the design of combisystems using wood-gasification boilers and pellet-fueled boilers for space heating and domestic hot water.
Holohan's "Dead Men's Steam School" all-technical seminar provides attendees easy-to-understand explanations about old steam-heating systems and what can go wrong with them. AHR attendees who take this seminar will become better troubleshooters and will leave with a strong overview of steam heating for older buildings of all sizes.
To register for PM Live!, go online to www.pmlivesymposium.com. To find out more information on the 2014 AHR Expo, visit www.ahrexpo.com.
---
HELPFUL LINKS: