Hydronic Technology
New Products
Green Plumbing and Mechanical
Raypak high-efficiency boilers
Raypak
expands its Xtherm product platform; the seven model sizes range from 999,000 Btu to 4 million Btu input. The Versa IC fully integrated control system, with built-in Modbus BMS port and cold-water protection functionality, comes standard.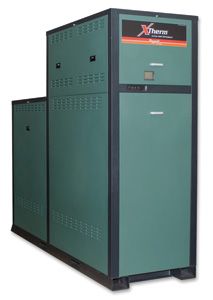 Optional BACnet and LONworks gateway modules are available. Cascade up to four boilers and utilize the built-in equal run-time rotation. The line features up to 98% thermal efficiency along with a turndown ratio up to 12:1, depending on model size. Unit can be vented with stainless steel, PVC with the D-32 option or polypropylene with the D-33 option.


I want to hear from you. Tell me how we can improve.