Hydronic Technology
New Products
Ultra-high-efficiency boilers
Bryan Steam Triple-Flex Ultra-High-Efficiency Condensing Boilers feature flexible stainless-steel tubes, minimum thermal efficiency of 90% with 160° return, 180° supply at maximum input. Triple-Flex fires at 3,000 MBH input, with sub 30 PPM NOx utilizing a hybrid metal fiber 5:1 turndown burner. The boilers are suited to deliver operating efficiencies up to 99% in new buildings designed for condensing boiler conditions and better than 90% efficiency in retrofit applications not de-signed for condensing boilers.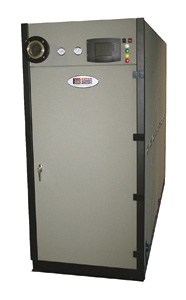 Bryan Steam. www.bryanboilers.com


I want to hear from you. Tell me how we can improve.