Hydronic Technology
New Products
Bosch Thermotechnology floor-mounted boiler stand
Bosch's
sturdy stand enables its Greenstar line of residential gas condensing boilers to be floor-mounted. The stand can be used with all eight Greenstar boilers (both heat and combi models) and has a small footprint to complement the boiler's compact profile.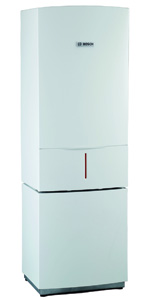 Floor-mounted boilers allow for the same easy service and access to the unit as the standard wall-mount. No additional training or components are needed. The boilers come in two versions: space-heating only and combi units, and they have an AFUE rating of 95%.


I want to hear from you. Tell me how we can improve.