Nexstar Network's 2014 Super Meeting — Sept. 17-19 in Phoenix — revolved around marketing. Keynote speaker Gopi Kallayil, chief branding evangelist at Google, noted that, globally, more people have smartphones than access to clean water. As such, marketing to potential customers must include an engaging online prescence.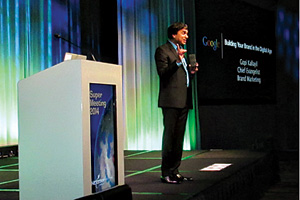 Google's branding director Gopi Kallayil gives Nexstar members tips on how to use digital media to build their brands by connecting with customers via entertainment, education and emotion.Photo credit: Kelly Faloon/Plumbing & Mechanical
"Consumers want brands to market to them only when they invite the brands into their lives," he said. "No more ambush marketing, such as TV ads. Once an ad gets on a smartphone, it's an intimate space. Engage your customers in powerful new ways using digital media."
He gave examples — from large national brands as well as plumbing and heating contractor companies — on how online videos and social media posts can provide entertainment, education and convenience to engage customers and reinforce a brand in their minds.
Other marketing messages included website search engine optimization, brand building through social media, call center leads, connecting with current customers, mass media advertising and hiring the best marketing manager.
The next Super Meeting is Oct. 7-9 in Philadelphia.
---
HELPFUL LINKS: