Plumbing News
Mechanical Systems
New Products
Product Focus
Legend PEX fittings assortment
Legend
broadens its offering of no-lead forged-brass and plastic PEX fittings. The no-lead forged-brass PEX fittings (ANSI F1807) are dezincification resistant and available in sizes from 3/8" to 1 1/4" — in various configurations.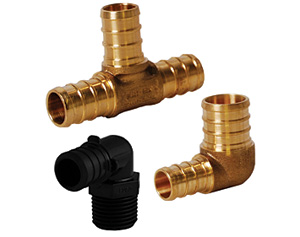 The plastic PEX fittings (ANSI F2159) are in sizes from 3/8" to 1" and various configurations. Also available are copper crimp rings (ASTM F 1807) and stainless-steel clamps (ASTM F 2098). Both are third-party certified: the no-lead brass fittings are ANSI/NSF 61G and ANSI/NSF 14, and the plastic are ANSI/NSF 61-4 and ANSI/NSF 14.


I want to hear from you. Tell me how we can improve.