Hydronic Technology
Mechanical Systems
Product Focus
Uponor PEX to CPVC adapter fittings
Uponor's
ProPEX lead-free brass CPVC adapter fittings allow for transitioning from CPVC to PEX in hydronic distribution piping systems. The fittings, which are available in 1 1/4", 1 1/2" and 2" sizes, are offered in a spigot and a socket adapter and feature a durable ASTM F1960 ProPEX expansion system.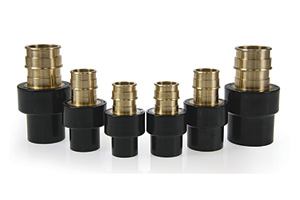 The ProPEX end of the fitting is manufactured with lead-free brass and is tested and listed to NSF 61 and NSF 372 to meet lead-free requirements. The CPVC end of the fitting is designed to transition from copper tube size pipe and fittings and is listed to the ASTM D2846 standard for CPVC fittings.


I want to hear from you. Tell me how we can improve.