Hydronic Technology
New Products
Green Plumbing and Mechanical
Product Focus
Noritz condensing tankless water heaters
Noritz's
NRCP line of residential tankless water heaters combines condensing technology with hot-water recirculation. The NRCP98-DV and the NRCP1112-DV have an Energy Factor of 0.95 for both natural gas and LP gas.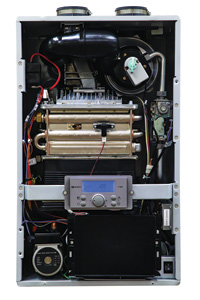 Each unit delivers water from 100° F to 140°, with a minimum flow rate for activation of 0.5 gpm. Using a 1/2" gas line, up to 120' in length, both can be vented with PVC or CPVC pipe. Both units are equipped with a gas leak detector and a water leakage cutoff.


I want to hear from you. Tell me how we can improve.