Hydronic Technology
New Products
Green Plumbing and Mechanical
Product Focus
Bosch Thermotechnology whole-house hot water on demand
Bosch's Tronic
5000 WH36 comes with an efficiency rating of 97% and can provide hot water for up to two major applications at a time. It can be installed virtually anywhere inside a home to provide whole-house hot water on demand at 5 gal. per min.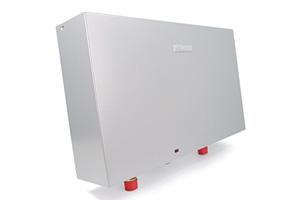 The Tronic 5000 experiences minimal stand-by loss and a constant output temperature. It comes with a filter screen on the unit's inlet and prevents scale buildup. It requires hard wiring through double-pole breakers in the breaker box and 180 amps.


I want to hear from you. Tell me how we can improve.