Founded in 1974 by Joe Q. Pindelland Fred L. Munds Jr., manufacturers rep
P-M & Associates
celebrated its 40th anniversary June 26 in Indianapolis with a party for about 300 customers, vendors and other business partners. The management team of CEO/COO Steve Hullett, President Rick Meyerand Vice President Michael Hendersonhosted the event that featured a live band, dinner served by a local catering company and beer from a nearby craft brewery.
The company staged the party in the parking lot outside its 63,000-sq.-ft. facility located on a 3-acre site near downtown Indianapolis. The building includes 40,000 sq. ft. of warehouse space, a 3,500-sq.-ft. training room with a "wet wall" for live demonstrations, and recently added locker rooms and fitness center for employees. P-M relocated to the property in December 2012.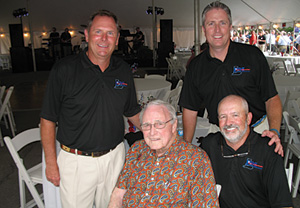 Joe Q. Pindell (colored shirt) co-founded P-M & Associates 40 years ago. He joined the anniversary party with the rep agency's management team (from left): CEO/COO Steve Hullett; Vice President Michael Henderson; and President Rick Meyer (seated).Photo credit: Bob Miodonski/Plumbing & Mechanical
The agency employs 13 people. Its five-member outside sales staff covers Indiana and Kentucky selling product lines in commercial and residential plumbing, fire protection, waterworks, water well, wastewater and hydronic heating. Vendors include Elkay Mfg. Co., Navien, Zurn, Symmons Industries, Eaton B-Line, IPS Corp., Zoeller Pump Co., T-Drill, Halsey Taylor, Elkhart Products, Lasco Fittings, Fluidmaster and Stiebel Eltron.
"Fred Munds, Joe Q. Pindell and, later, G.E. 'Bud' Meyerdisplayed the work ethic that continues today with everyone at P-M," Hullett said. "We are extremely fortunate to represent the manufacturers we work for. Many of these relationships go back to day one in 1974 and that is testament to doing a good job every day. We practice the 'work hard, play hard' mentality."
---
HELPFUL LINKS: