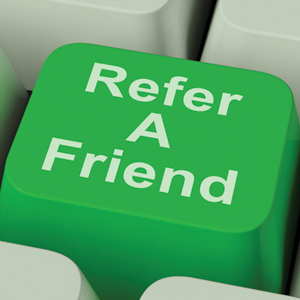 Photo credit: ©istockphoto.com/stuartmiles99
Referrals are often no cost and low effort with big returns — just the way mega-successful businesses do it. Yet, most contractors would rather do it the hard, slow, painful and unrewarding way.
Fortunately, you now know better. You know to treat asking for referrals with reverence. Because your future sales are dependent on getting referrals, this process is not something to treat lightly. Give it the time it deserves (at least five minutes, 10 is better). Tell your customer, "I have an important question to ask you."
If you feel awkward about asking for referrals, you probably won't treat the inquiring with reverence. Move through this awkwardness as fast as you can. Practice role play exercises with co-workers and family members.
1. Ask for help. The most powerful words you can use in asking for referrals are, "I need your help." If you've served your customer well, if you've built rapport and trust, then he or she will be happy to give you referrals. You just have to ask. Remember, you're asking for help so you can help their friends or colleagues. In this way, they'll be helping you because they like you and they'll be helping their friends. It is a double benefit for them.
2. Reinforce why you want referrals. Don't hesitate to tell a customer that your business is dependent on referrals. This statement reinforces your commitment to quality work and good service. What kind of fool would be in a business that's dependent on referrals if he weren't going to do a quality job in the first place?
3. Get permission to explore or brainstorm who they know. "I was wondering, with your permission, if we could explore for a second who you know that might be able to benefit from the same working relationship we've been able to establish. Would that be OK?" Or "I'm glad that I've been able to help you. I'm thinking you may know others who would also benefit from what I do. Could we brainstorm on who else we can help?"
4. Assure your customer that you will respect his relationship with the referral, as well as the referring client's privacy. You are not seeking these names to exploit or harass the friends of friends. You are seeking the names of more people that you can help.
You can put your referral source at ease with the whole process by explaining how you will go about contacting anyone who is referred to you. Be prepared to show them examples of letters or other forms of contact you regularly use in the referral process.
If you don't plan to telemarket their friends, tell them! If you only plan limited contact or to send a free newsletter to their friends, tell them!
5. Limit their field of view, sharpen their focus and be specific. Many salespeople have found it useful to reduce the number of prospects to which your customer might refer you. That is, ask specifically about family members, neighbors and people they know who have had bad experiences.
Instead of requesting "a few names," ask for three referrals. You are much more likely to get what you ask for when you give an exact number.
Say, "I know you're probably active in your homeowner's association (or church). Could we think of three people who you could see benefiting from how I've helped you?"
If you are targeting a particular market, consider pulling out a list of "influencers" you are trying to reach. Or see if they have a membership directory (church, sports team roster, association, etc.).
6. Ask for the referral before the closing paper work is done. Have you noticed how quickly busy customers want to get back to their office or home after business has been completed? If they sense that giving you referrals is part of the sales process, they'll give you more qualified names.
7. Continue to fill the referral pipeline. Most simply, you can ask a leading question to get a referral commitment. The following question could be asked by your tech, in a follow-up "happy call" or even on a postcard:
"If a friend of yours asked, would you feel comfortable referring them to us?"
This is a closed-end question, which is dangerous in a sales closing situation, but perfectly acceptable in a referral setting. Obviously, customers' answer to this will tell you volumes about the level of service they felt they received.
Caution: Face-to-face responses to this question will be higher than either of the other methods, simply because of people being sheepish about saying "no" to someone since it could come across as rude or spark confrontation. However, the level of comfort is fully indicative of the truthfulness of the response.
8. Learn something about each referral. Does he play tennis? Is her hobby interior design? You will be able to develop a high level of trust and rapport by initially saying, "Jan tells me you're quite a tennis player." Using personal knowledge like this will also position you as a friend of a friend. It will make it very difficult for a prospect to say no to an appointment request.
To be powerful in asking for referrals, you need to get to know your customers and prospects as well as possible. When you have a sense of who they are and how they spend their time, you can explore or brainstorm with them much more effectively.
---
HELPFUL LINKS: