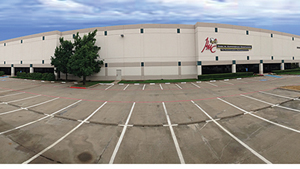 Hugh M. Cunningham Cos.' new headquarters building in Dallas.
Dallas-based Hugh M. Cunningham Cos. moved into its new corporate headquarters building in early March. The 95,000-sq.-ft. facility is the new home to all Cunningham Cos., including a warehouse with $20 million in inventory from 50 different manufacturer partners. 
Some of the features of the Beehive, as the company calls the facility, include: seven conference rooms with full video conference capabilities in all; a kitchen with a 36-person capacity lunchroom, which contains two computer workstations for HMC employees to use on breaks; and a 50-person, state-of-the-art training facility.     
---
HELPFUL LINKS: