TOTO recently announced it has entered into a strategic alliance with WinWholesale to distribute the company's high-performance, planet-friendly products across 37 states in the U.S.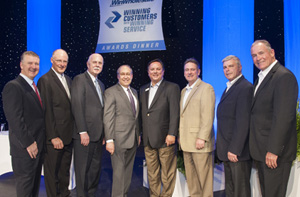 TOTO has partnered with WinWholesale to distribute the company's products across 37 states in the U.S. 


Starting April 1, select Win-branded and Noland Co. locations will have available TOTO's full line of residential and commercial fixtures and fittings in more than 285 local supply houses and 131 kitchen-and-bath showrooms.

The new agreement between TOTO and WinWholesale builds on their successful relationship for more than 10 years. The strategic partnership offers TOTO broad distribution channels to provide customers with its full line of residential and commercial products for the whole bathroom.

"As we continue to aggressively grow our business, we've been looking for ways to expand and streamline TOTO's distribution process," TOTO Vice President, United States Sales Division Jason Fitzsimmons said. "We are pleased to enter into this new agreement with WinWholesale for nationwide distribution as it offers us more opportunities to efficiently deliver products where and when our customers need them."

WinWholesale Vice President, Vendor Relations Eddie Gibbs added: "We are excited to enter into this national agreement with TOTO. With the economy recovering and WinWholesale's continued market-share growth, adding TOTO to our product offerings will enable us to expand our ability to provide customers with products when and where they need them, dependable expertise and the comfort of dealing with a decision maker."
Pictured here, from left: WinWholesale's management team of Monte Salsman (COO), Eddie Gibbs (VP vendor relations), Jack Johnson (president) and Rick Schwartz (CEO and chairman of the board); TOTO USA's sales management team, from center right: Jason Fitzsimmons (VP, U.S. sales division), Dan Tungett (senior regional director, Central Region), Paul Wellman (senior regional director, Western Region) and Tom James (senior regional director Southeast Region).
 
---
HELPFUL LINKS: