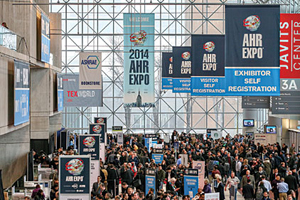 The 2014 AHR Expo may have a record high of registered attendees — 61,000 visitors and exhibitor personnel.Photo credit: Oscar Einzig
Despite a storm that dropped 10 in. of snow on New York City and created a state of emergency in parts of New York, the severe weather didn't stop thousands of determined attendees and exhibitors from filling the aisles and booths at the 2014 AHR Expo held at the Javits Convention Center, Jan. 21-23. According to show organizer International Exposition Co., a total of more than 61,000 attendees (42,991 visitors and 18,219 exhibitor personnel from 1,900 exhibiting companies) registered for the 2014 AHR Expo.
Entry fees from the AHR Expo Innovation Awards competition — $12,525 — are to be donated to the Youth Action YouthBuild organization based in NYC's East Harlem community. YAYB is dedicated to providing education, training and leadership opportunities to thousands of low-income young adults while engaging them in the creation of affordable housing. The donation will be used to help upgrade the HVAC systems of the homes YAYB is building or renovating.
Emerson Climate Technologies' Next Generation Copeland Scroll variable-speed compressor line was honored as the 2014 AHR Expo Product of the Year during the Innovation Award Ceremonies on Jan. 22. The new Emerson product line was chosen as the Product of the Year from among the top Innovation Award winners in 10 industry-related categories.
---
HELPFUL LINKS: