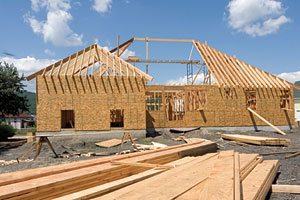 Photo credit: ©istockphoto.com/Cvisphoto
Although single-family housing starts have continued their comeback climb  from under 100,000 annually in early 2009, they have significantly rebounded over that figure well into 2013. Much of the recovery on home sales has been concentrated on the reduction of over-extended existing home inventories.
In keeping pace with the approach of business and industry in general, America's housing industry has maintained a vigilance based on upkeep, repair and expansion onsite wherever possible. Builders are wary of the impact on the incoming year's economy due to Obamacare confusion, tighter regulations and the overhang of unemployment — especially in the family formation sector that has been beset by minimal job formations.
The latter has expressed particular vulnerability as the mobility factor in job-seeking is critical in not being tied down by the liability of a long-term mortgage, no matter how attractive the interest payments may currently be.
That is why the bulk of the housing sales recovery has been focused on existing homes. An index of remodeling activity, maintained by the National Association of Realtors, recently hit the highest level since 2004. While housing starts for single-family homes in big-city suburbs have edged up, the real dynamics in such homes have been the sharp volume increase and higher selling prices. Even in such major urban centers as New York, Chicago, Los Angeles, San Francisco and Miami, the demand is on the way of outstripping residences for sale.
This rising trend of housing activity is buttressed by long-term leasing, monthly rentals and an influx of foreign demand, much of it from neighboring Canada. China's flourishing economy has made its newly rich citizens clamoring for second homes in this country.
The existing upgrading activity by homeowners, hoping to make their units more saleable for the future — by adding the latest technological additions in heating, air conditioning and recreational centers — has been supplemental in greater demand for plumbing, heating and cooling subcontractors. Mechanical contractors are also in demand to add capacity and style to homeowners' existing residences.
While a reversion to the housing booms of the late 1990s and early 2000s was not in the cards, America's population growth since 2005 has been substantial enough to make additional residential space a must.
Booming new economic energy growth centers such as North Dakota, Texas, Oklahoma and Pennsylvania are benefitting from the "red-hot" shale development and are already calling for construction specialists to broaden necessary living space.
Add to this the expected demands of pipeline infrastructure, the massive unemployment that has bedeviled construction workers may become a bad dream of the past five years. Barring any unforeseen new negatives, the important U.S. construction employment sector may be confronted with shortages by the end of 2014.
Skilled jobs go begging
While more than 12 million potential jobseekers are looking for gainful employment, more than five million skilled "openings" are unfulfilled, a number likely to expand during 2014. This problem is complicated not only by the need for sophisticated skills, such as those needed for aerospace, construction, engineering, robotics and evolutionary communications, but by an administration that manifests cluelessness in supporting accelerated training for such critical professions.
The problem only gets worse as many skilled Baby Boomers are getting ready to retire and the employment-critical independent businesses are protecting their bottom lines by trading full-time positions for part-time workers, thereby cutting benefit costs.
While budget cuts and a general administration disinterested in federal job training aggravate the skilled jobs shortage, an easing of the road to citizenship is putting increasingly heavy reliance on foreign workers. Depending on the H-1B visa situation for highly skilled workers may help. However, foreign workers trained at prestigious U.S. universities will find it more expedient to return to China, India, Indonesia, etc., where increasingly higher-paid professions are waiting for them in their native lands.
The quickening pace of technology and the creation of professional expertise to sustain the needed skills to fill these slots will leave corporations with their own training programs to accommodate worker shortages.
What is most concerning is that the current government priority employment level focuses on unemployment compensation, food stamps or higher national entry-level wages. Until a federal leadership understands the needs and numbers of skill levels, the current inadequate programs will stagger along without any meaningful approach toward resolving this critical problem.
Female-dominated jobs increase
According to the Institute for Women's Policy Research, female-dominated jobs, as of June 2013, had regained an overwhelming 91% of previously lost jobs, while men's job growth during the post 2008-2010 Great Recession period lagged at 68%.
This lapse was primarily due to the contraction of rehired government jobs and the acceleration of rebounds in health care, retail and a variety of service sectors, in which most of the openings have been filled by women. Based on an analysis spanning the four-year post-recession period, the Bureau of Labor Statistics reports that the numbers for women workers have now regained all the jobs lost during the recession, while men have barely recovered 70%.
In the first year after the recession's official end in 2010, government jobs served as one of the largest growth industries for both women and men. This pace, however, slackened significantly in the following three years, especially for women. During the four years of the recovery, between June 2009 to June 2013, women accounted for 62% of the 748,000 total government jobs lost. Men suffered the brunt of the contraction of federal, state and municipal jobs, estimated at more than 539,000 people.
The only reason the higher percentage of women now employed has held up is due to the upward concentration in the arenas of health care, education and retail service jobs. But the primarily male concentration in such high production jobs such as automotive, aircraft, construction and manufacturing accounts for the fact that technological improvement has primarily impacted men.
Despite the overall increase in job returns, women have fared worse than men when it comes to job growth within each industry. According to authoritative analyses, women have either lost proportionately more jobs or gained fewer than men in each industry.
Although equal pay for similar work has become an increasing point of contention in American business and industry, the income gap between the sexes is still significant. This has led to the entry of women into legal, financial and informational services.
The trend of an increasing percentage of women in the broader professional arena has been aided by significant female college enrollment, as well as a higher proportion of post-graduate degrees, as a percentage of total enrollment and awards.
Small-business optimism tumbles
Although my ongoing contact with top-flight independent manufacturers, distributors, contractors and end users has reflected disdain for what my listening posts label the "war against small business," it's been my hope that the positive outlook for energy development, exports and upbeat signs for commercial and industrial construction would instigate a more positive attitude.
But as the significant drop in small-business confidence for October indicated, these entrepreneurial employers of most American workers are becoming increasingly distrustful of the federal government's objectives.
A disproportionate amount of expenditures by these independent companies is being directed at onsite expansion and upgrading, productivity-inducing technology and a "wait and see" attitude as to what the federal government has up its sleeve. These businesses are skeptical of such buzzwords as climate control, minimum wages and equal opportunity as a way to get in the hair of general management, according to the overwhelming majority with whom I maintain a dialogue.
As we head into 2014, independent businesses may be witnessing the first time in modern American history where the federal government in general is not looked at as a facilitator or an objective judge of issues and problems arising between small-business management and unions, but rather as an antagonist.
This fog of despair seems to overshadow growth possibilities by manufacturers and inventory-building by distributors. It's the ultimate irony that the greatest push in such areas as commercial and industrial construction, in addition to purchasing medium- and small-sized companies, is emanating from foreign buyers.
---
HELPFUL LINKS: