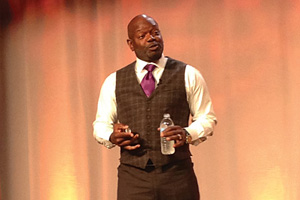 Emmitt Smith speaks to Nexstar members about leadership, change and growth at the group's annual Super Meeting, Oct. 3-5 in Indianapolis.Photo credit: Nexstar
Nexstar's 2013 Super Meeting, Oct. 3-5 in Indianapolis, opened with a keynote address by football great Emmitt Smith. He explained that much of the advice his coaches and mentors gave him over the years transferred into the business realm after he retired from football.
"Processes and structure are what I've brought with me from football," he said, much like the processes and structures PHC contractors can obtain from industry organizations.
Change is inevitable; Smith adds that how we approach change matters, that a positive attitude toward change allows growth while resistance inhibits growth. Business and personal growth also come from focus and passion.
After the keynote, attendees chose from eight breakout sessions occurring throughout the afternoon. At the "The Next Generation of Leadership," session, consultant Sarah Sladek of XYZ University noted that, in a few years, Baby Boomers will be retiring at a faster rate and Gen Y will be the next generation of leaders across all industries.
"Everything about our world has changed in the last 30 years," she notes, and skilled trades are being redefined. "If you're not using technology as much as possible in your business, you are alienating the next generation of workers and leaders."
During the previous day's preconference activities, members chose from six seminars. During the acquisitions session, Chris Risey of Lantern Capital Advisors noted that more financing options are available for contractors to finance the purchase of a business than banks and venture capital or private equity firms. These include commercial finance companies, insurance companies, hedge funds, subordinated debt funds and business development corporations.
The key to financing a business purchase is to get your proposal out to as many financial institutions as possible, he said — approaching just one entity won't give you many options.
---
HELPFUL LINKS: