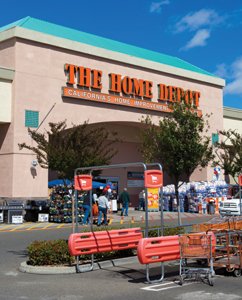 Outside a Home Depot. Photo credit: ©istockphoto.com/slobo
Let's look at some of the realistic possibilities for a contractor hoping for survival, as well as continued growth and success.
One option is to expand whatever type of work that your employees can perform, based on their database skills inventories. Today's recovering economy will require more service work and repairs, along with lower-cost salvage center materials.
Another option is to become the prime contractor on remodeling or smaller construction projects. You could find employees who can perform the different trades or subcontract that work. Many contractors or employees are available who hold licenses in plumbing, mechanical and electrical who would join your team.
This also provides a good opportunity for a joint venture for one major project. Attend trade association meetings and share your ambitions with other contractors and suppliers. Many also are looking at feasible opportunities and would join forces with you in your efforts.
Consider traveling to another market area where you can submit your bid and have your crews work flex-time shifts. You may have employees who would relocate to an area where they or their spouses could open a division. This situation is especially adaptable for service work, remodeling or smaller new projects.
Cooperate with your local do-it-yourself retail outlets for installing equipment and assisting customers with instructions.
It's easy to see how these ideas are only a beginning of your possibilities. However, above all else:
Find something you really like to do. Then it's not so much like work! This is momentum: You like it because you are good at it and you are good at it because you like it.
Avoid anything that may be illegal or immoral.
Produce quality workmanship to maintain the critical "pride of a craftsman."
Whatever decision you make must not infringe on your financial stability. We call that "keeping one foot on solid ground."
You may have to decide on changing your union, nonunion or double-breasted status. Discuss these alternatives with your local union business manager. Consider all the advantages and disadvantages. This would be a very critical step when contemplating working in a new market area.
Value-engineer each project you bid to determine how much prefab work would be advantageous. You could even bid to do the prefab work for the bidder who is awarded that contract.
Do not overlook the possibilities of using one or more of your own family and your key employees to manage a new venture. They may have the experience, education and ability to work with you to achieve success on this type of undertaking.
Possibilities outside construction
Keep in mind, you are not limited to staying in construction-related fields. You may want to try farming and opening a roadside stand to sell fruits and vegetables. You also could own and operate a restaurant or another type of retail outlet.
There are unlimited opportunities with the Internet, computer repairs, programming, computer games, etc. This entire scope would be especially attractive to the younger generation.
Our family business in Pennsylvania bought the retail gasoline station that serviced our vehicles. We expanded the maintenance and service business to the public, and added a tool and equipment rental business that employed 10 year-round employees.  It also produced a nice profit.
Many opportunities exist in heavy construction utilities and site work underground excavation. You can rent the major brands' construction equipment — backhoes, trenchers and pipe-laying equipment. Or buy the equipment and rent it to other contractors. You need to carefully consider the positive and negative effects this venture would have on your business, as well as on you and your family.
I spent many decades with management responsibility where my value-engineering plan saved us millions of dollars. With every daily task I assigned I asked myself: "What will we need and where can we get it if we run out? What could go wrong? How could someone get hurt? When do we have to be done?" I asked the same questions of the people assigned to do the work.
We also had our PEP (Predictable Emergency Preparation) talks:
If the generator won't start, where can we get another one fast?
If the water pump won't run, how can we get water out of our ditch?
If our welder doesn't show up, who can we get fast?
Where can we find  a stand-by operator for the backhoe?
If we need more fittings or equipment, can we get to our yard or is a supply house nearby?
If it rains, are a tent, boots and rain gear available?
The above list changes with the type of job, its location and critical completion time. Scheduling some jobs on flex-time is beneficial to meeting schedules and also saves dollars.
You could overlook these questions, and value-engineering, and simply say what my contractor Pap taught me, "Paul, asking yourself these questions just makes you think!"
 We all want to be thinking contractors.  
---
HELPFUL LINKS: