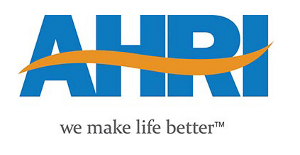 The Air-Conditioning, Heating, and Refrigeration Institute recently debuted a new logo and vision for the association. The new logo includes a tagline, which also serves as the association's vision: "We Make Life Better."
The new logo and tagline complement AHRI's mission to serve as an advocate of North American HVACR and water heater manufacturers, and as a global leader of the industry. New colors represent heating and cooling elements, which are reflective of the association's diverse membership.
"It sums up everything we do and everything we are about as an industry," said AHRI President and CEO Stephen Yurek. "It is our goal to continue our work on performance standards and certification, while serving as a leading voice on environmental and energy policy."
The new logo will be distributed to AHRI's member companies and industry partners immediately, and will be implemented on all materials over the next several months.
"Our members' products improve the lives of people all day, every day, and the new logo and tagline serve as a constant reminder of that fact," Yurek added.