Whether enduring the ice and snow or withstanding chilling winds, every cold-weather worker faces challenges. As this year's Cintas & Carhartt Cold Crew Contest draws to a close on Feb. 28, there's no better time to share your story.
Cintas Corp. launched the second annual Cintas & Carhartt Cold Crew Contest to recognize individuals in the United States and Canada who withstand the toughest winter working conditions. Entries will be accepted through Feb. 28, at which time Cintas and Carhartt will select finalists and begin public voting at the contest website. The grand-prize winner will be announced in April and will enjoy a trip for two to the 2013 CMA Music Festival, June 6-9, in Nashville, Tenn.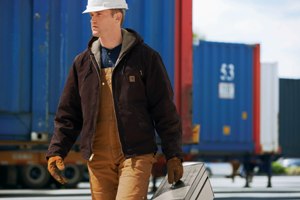 "Carhartt is synonymous with outerwear, so with colder months approaching, we are thrilled to re-launch the Cold Crew Contest," says Brad Heizman, national director of garment strategy for Cintas Corp. "Last year's contest generated amazing stories from men and women who brave extremely brutal working conditions during the winter months, and we are looking forward to another opportunity to acknowledge them."
The Cintas & Carhartt Cold Crew Contest was first launched in December 2011 in conjunction with the release of the Carhartt Rental Active Jacket, offered exclusively by Cintas as part of the Carhartt Rental Workwear line. Hundreds of entries were collected, and the public selected Brooke Boyer, a wastewater treatment plant supervisor from Mt. Shasta, Calif., as the grand-prize winner.
Cintas Corp. introduced the Carhartt Rental Workwear line in 2010 as part of a partnership with Carhartt, which was founded in 1889 and is a global manufacturer of premium rugged apparel. In addition to the Carhartt Rental Active Jacket, the line includes a Carhartt Work Shirt, a Carhartt Carpenter Jean, a Carhartt 5-Pocket Work Jean and a Carhartt Dungaree Pant, all of which are available exclusively through Cintas.
---
HELPFUL LINKS: