Plumbing Fixtures' Drive 80! campaign recently culminated with St. Mary's, Ohio-based plumbing contractor Rick Kogge of Kogge Plumbing winning the company's Chevy Avalanche truck giveaway. The drawing for the truck was held during the Drive 80! celebration at Gerber's headquarters in Woodridge, Ill.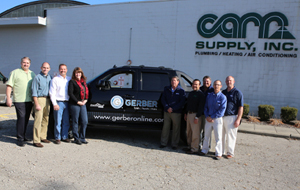 Left to right: Eric Peterson, Gerber VP of Sales;Kevin McJoynt, Gerber VP of Marketing; Rick Kogge, Kogge Plumbing and winner of the Chevy Avalanche
Penny Kogge Bud Essig Owner of Carr Supply;Jim Halter Carr Supply Operation/Sales Manager; Greg Essig Owner of Carr Supply; Doug Ferenbaugh Carr Supply Outside Sales; Steve Werling Carr Supply Dayton Branch Manager
Gerber Plumbing Fixtures Vice President of Marketing Kevin McJoynt said the company had 4,000 entries for the drawing when it was expecting in the 2,500-3,500 range.

Drive 80! was a nationwide campaign celebrating Gerber's 80th anniversary. Gerber hosted a series of events across the country educating customers such as contractors and wholesalers on the company's latest brass product offering.

McJoynt noted the uptick in entries in the truck drawing correlated to an increase in the number of Drive 80! events held throughout the country. McJoynt said 44 states were represented in the drawing.

"These were virtually all done at wholesalers' locations," he said. "We expected to have 150 events. We had more than 250. We had a lot of participation."<br><br>
Kogge won a fully loaded 2012 Chevy Avalanche. Geber chose the truck in honor of its award-winning Avalanche toilet.